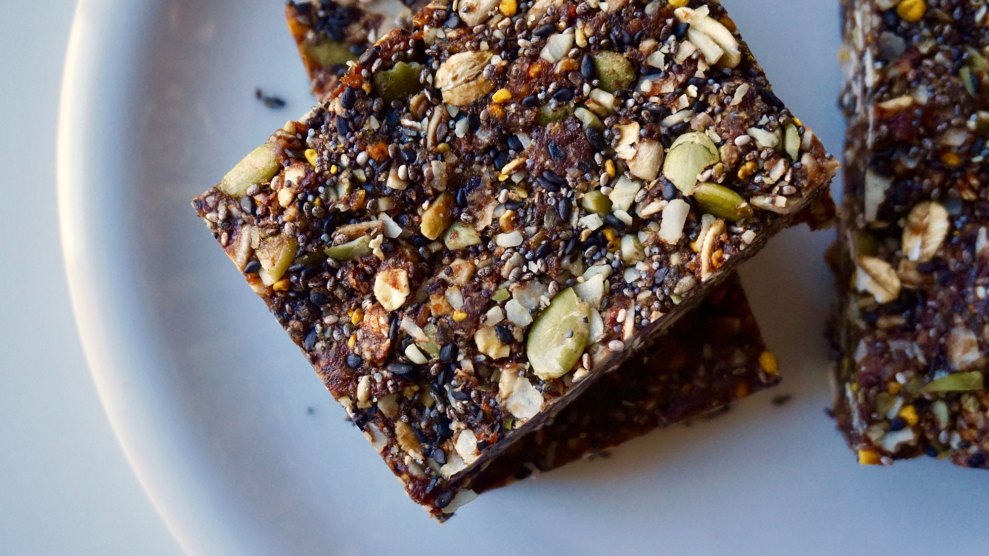 Fight disinformation:
Sign up
for the free
Mother Jones Daily
newsletter and follow the news that matters.
When we look back at 2017, we'll remember it as the Year People Took to the Streets. January's Women's March drew 5 million participants worldwide, and President Donald Trump's refugee ban saw protesters flooding airports and capitol squares in major cities. And there are many more marches to come, including a March for Science on April 22.
Getting fired up takes energy. Chef and blogger Lentine Alexis knows this well: She once competed in Ironman triathlons around the world, including the World Championship in Kona, Hawaii, and had to focus a lot of her time on consuming enough calories to keep her body going. But forget about a diet of pasty energy bars or sugary gels—she craved food that tasted delicious. "Eating something from a package that tastes like cardboard isn't actually good for your athletic brain," she says. "It makes you feel like you're going to continue suffering."
Lentine went on to become a pastry chef and then did a stint at Scratch Labs, a sports nutrition company, where she earned the title of "The Cookie Lady." (The first prepackaged energy bar mix she developed for the company "is very similar to what a cookie you make at home would look like").
So we asked Lentine to devise a tasty energy bar that would be great to slip in your pocket for extra nourishment during a day on the streets. You don't even have to bake it. (Our story about her recipe starts at 1:46 in the episode above.)
The recipe is heavy on the seeds—Lentine lists a few suggestions, but really you can use any combination of them that you have on hand. "I am not necessarily the type of person who would go to a protest," Lentine says, "but I am absolutely the type of person that believes that our actions matter. Anything we do in our day-to-day lives, living through example and planting little seeds is really important. Those little seeds added together create something that's really powerful and that's lasting and vital for us to continue no matter what the political or athletic climate may be."
The She Persisted Bar
Known on Lentine's blog as the Superseed Energy Bar (for Making Change)
Ingredients
(Feel free to substitute with any seeds you have on hand, and scrap the bee pollen if you can't find it at a local farmer's market or natural grocer.)
1 cup pumpkin seeds
1 cup shredded coconut
½ cup black sesame seeds
½ cup raw sunflower seeds
4 tbsp chia seeds
2 tbsp bee pollen (optional)
20 medjool dates, pitted and chopped
6 tbsp coconut oil, at room temperature
4 tbsp unsweetened cacao powder
1 tsp organic vanilla extract
6 tbsp rolled oats
2 tbsp poppy seeds
Directions
In the bowl of a food processor fitted with the metal blade attachment, pulse the seeds, coconut, and bee pollen in a food processor until chunky and incorporated. (Be careful not to overprocess—you don't want seed butter!) Remove the seed mixture from the bowl of the processor and place in a large, broad bowl.
Then, in the bowl of the processor, combine half the dates and the coconut oil cacao powder and vanilla extract and pulse until well incorporated. Add the remaining dates and pulse until smooth. (You may want to add a small amount of warm water, just one tablespoon at a time if your dates are on the drier side.)
Transfer the date mixture to the bowl with the seed mixture and add the oats and poppy seeds. Use your hands to squeeze and mix until the mixture becomes congruent and there aren't any dry patches of seeds.
Press the seed and date mixture into an 11 x 7-inch glass baking dish with the back of a rubber spatula, being sure that the mixture is even and the same thickness all the way around the pan. Allow the bars to chill for 30 minutes before cutting into squares or rectangles, wrapping individually and storing in the refrigerator for up to two weeks.
Bite is Mother Jones' new food politics podcast. Listen to all our episodes here, or by subscribing in iTunes or Stitcher or via RSS.