Fight disinformation:
Sign up
for the free
Mother Jones Daily
newsletter and follow the news that matters.
What should you serve wedding guests you're about to murder? "Probably lamb—a classic choice, very rare," Chelsea Monroe-Cassel suggests. "Maybe cordial or liquor to dull their senses."
Lamb was indeed on the menu during the "Red Wedding," one of the Game of Thrones TV series' most infamous episodes. For Monroe-Cassel, the reason to indulge in the fantasy series, whose HBO TV show returns for its seventh season on July 16, is not for its stirring battles or moments of sweet revenge, its lusting heroes or witty deviants or dragons—but rather for its feasts and tavern snacks.
Along with chef Sariann Lehrer, Vermont-based blogger Monroe-Cassel co-authored A Feast of Ice and Fire: The Official Game of Thrones Companion Cookbook, and manages the food and fiction website The Inn at the Crossroads. "I'm a pain in the neck to watch the show with," Monroe-Cassel says on our latest episode of Bite, "because I'm always pointing at the screen every time there's food." (The interview with Monroe-Cassel begins at 2:11).
Designing recipes for a fantasy kingdom that resides in author George R.R. Martin's brain is easier than you might think. "Unlike a lot of fictional settings, his world is heavily rooted in actual real-world history," Monroe-Cassel explains, "mostly in War of the Roses-era England, but also ancient Egypt, ancient Rome, and other periods of medieval Europe." She and Lehrer research historical corollaries for the sumptuous dishes described on Martin's pages and offer tweaks to the recipes to make the food more palatable for modern tastes. They would prefer you use a gamey elk or venison sausage rather than the dog sausage eaten for breakfast in the pyramid-studded city of Mereen, for instance.
Bloggers have speculated that in the show's seventh season, characters will turn toward King's Landing, the center of Westeros and the site of the coveted Iron Throne. According to Monroe-Cassel, Martin based King's Landing on Istanbul: The large port city, once known as Constantinople, hung a chain across its main channel to block unwelcome ships, as does Martin's imaginary capital.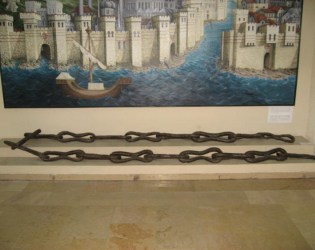 "Because it's a port city, you'd get ingredients from far-flung places," Monroe-Cassel says, along with plenty of rice dishes, flavored meats, and fish. In the Red Keep, the city's central castle, the nobility enjoy fancy small plates, along with creamy chestnut soups (recipe below) and opulent meals like quails drowned in butter. But you might prefer a nice dockside tavern meal of fried fish and hunks of bread, chased with slightly sour wine, or the favorite snack of character Davos Seaworth (see recipe at the bottom of this post).  
Readers of Martin's series might feel disappointed at times that HBO doesn't linger so long on the feasts. But Monroe-Cassel thinks the excitement surrounding her cookbook's Game of Thrones-inspired fare might be having an impact on the TV series' producers. "I've seen a few things on [the show] that look suspiciously like things in either the cookbook or the blog," she notes, "which is…pretty amazing."
Whether you're attending a Game of Thrones dinner party or just curious about how to dine like a Lannister, you can enjoy these recipes that Monroe-Cassel recommends for season 7:
Cersei's Creamy Chestnut Soup
From A Feast of Ice and Fire: The Official Game of Thrones Companion Cookbook, by Chelsea Monroe-Cassel and Sariann Lehrer, with a forward by George R.R. Martin
For the toppings:
½ cup duck fat
2 T butter
4 slices bread, cut into croutons (around 3 cups)
1 smoked duck breast, skin removed, sliced thinly (around 7 oz)
1 shallot, peeled and sliced
2 oz soft cheese, cubed small (we used Drunken Goat cheese)
chopped herbs for garnish (few sprigs parsley and thyme & chives)
For the Soup:
3 T armagnac (a kind of brandy)
2 cups cooked peeled chestnuts
¼ c chopped onion
1 small celery rib (7 oz), peeled and cubed
1 carrot (7 oz), peeled and cubed
4 sprigs thyme
4 sprigs parsley
2 bay leaves
3/4 c lentilles de Puy or French green lentils
8 c cold water
1 t salt
1/3  c heavy cream
Slice and soak the chestnuts in the Armagnac brandy for a few hours.
Heat 4 T duck fat and 2 T butter and sauté the croutons till crisp and golden and reserve.
Sauté the thinly sliced duck in the 2 T duck fat till crisp and reserve.  Sauté the shallot, onion, celery root and carrot in the same duck fat (This starts to smell unbelievably good!).
Make a bundle of the herbs and toss into a large pot. Add the lentils, 1/3 of the smoked duck and the chestnuts, reserving the Armagnac.  Add the water and salt and cook 20-25 minutes or until the lentils are soft. Strain the soup, reserving most of the cooking liquid, and remove the herbs and the duck. Puree the soup using the heavy cream and reserved cooking liquid as necessary. Start with a small amount of liquid so that the resulting soup is as creamy as possibly. You are aiming for a thick bisque sort of consistency, but one that can still be poured. The soup will thicken as it stands so keep the cooking liquid to add as needed.
Pour soup into bowl and sprinkle with croutons, soft cheese, chopped herbs, and the sauteed duck. Serve immediately.
Snacking With Davos Seaworth
From A Feast of Ice and Fire: The Official Game of Thrones Companion Cookbook, by Chelsea Monroe-Cassel and Sariann Lehrer, with a forward by George R.R. Martin
"Feta and olives are a classic Mediterranean pairing, and are very nice when combined with the hot white wine. If you like pepper, just a touch sprinkled on top of both olives and cheese can be lovely. Try finding a windswept spit of rock, or a tall ship to eat your snack on."
What you'll need:
white cheese, such as feta
cracked green olives
Hot wine with lime juice:
Ingredients:
1 lime, keep the peel and half the juice
700 ml white fruity wine (that is 1 normal bottle)
1-2 vanilla pods (or 2 tsp vanilla extract)
3 bay leaves
~10 whole cloves
pinch of ground cloves
pinch of white pepper
3 -4 tablespoons honey
6 tablespoons white port (optional, but fortifying)
Peel the lime, cut into small pieces, and juice half of it. Pour the wine in a pan, add the lime peel, lime juice, vanilla pods, cloves, pepper, and bay leaves. Bring to just under a simmer. Lower the heat, cover the pan and leave to warm through for at least 15 minutes. Try to just keep it hot and not let it boil. Add 3 tablespoons of honey and the port, if using, then taste to see or you want to add more honey. Remove the vanilla pods, cloves, lime peel and the bay leaves. Serve in a heatproof glass.