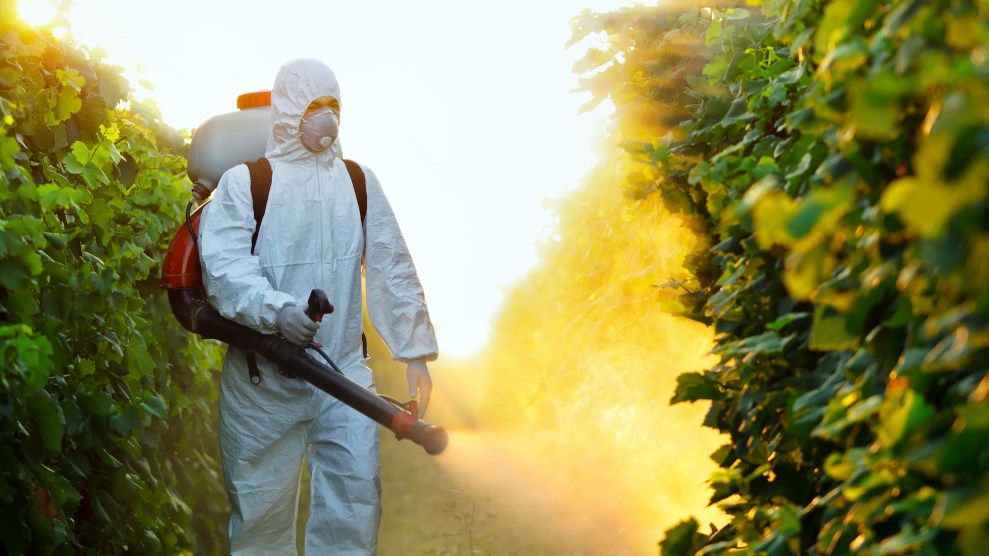 Fight disinformation:
Sign up
for the free
Mother Jones Daily
newsletter and follow the news that matters.
In its ongoing zeal to nix regulations, the Trump administration's Environmental Protection Agency has yet another one in its crosshairs: a rule banning minors from applying pesticides on farms.
In December, amid the frenzied debate over the GOP tax overhaul, the EPA announced in a release its intent to "revise the minimum age requirements" for pesticide applicators. As justification for the move, the agency cited Executive Order 13777, signed by President Donald Trump in February 2017 with the promise to "alleviate unnecessary regulatory burdens placed on the American people."
Under federal laws, you have to be 16 to work in most occupations, but agriculture is exempt. Human Rights Watch found that in 2010, nearly half a million kids under 18 worked on US farms. The case against employing them to spray pesticides is strong. According to the American Academy of Pediatrics, early-life exposure to pesticides is linked to "pediatric cancers, decreased cognitive function, and behavioral problems." Two recent studies of adolescent pesticide applicators in Egypt (here and here) have turned up evidence that the job causes neurological damage.
The EPA's age limit on pesticide application, one of the few nationwide regulations on child farm labor, was solidified in 2015. But the agency's December release signals it may be considering lowering or scrapping the age limit, according to Virginia Ruiz, director of occupational and environmental health for the group Farmworker Justice. The EPA stated it expects to have a proposal ready for public comment sometime in fiscal year 2018, which ends in September. From there, the process for revising EPA rules takes years, Ruiz told me, "even if the Trump EPA tries to fast-track this."

Huffington Post's Dave Jamieson recently reported that the American Farm Bureau Federation—a nonprofit closely allied with big agribusinesses—lobbied the EPA on agricultural pesticide-application policy last year, according to its Congressional disclosure form. I asked Farm Bureau spokesman William Rodger about whether the group had pushed the EPA on the age limit. "We generally prefer that states set age limitations, but no, we haven't taken a position on this one," he replied. He said he'd get back to me on why the Farm Bureau thinks it would be beneficial to allow states to set age limits on pesticide application, and also on what the organization discussed with the EPA in 2017. I'll update this post if he does.
Meanwhile, farm worker advocates are outraged by the push to reconsider the age limit. In a statement, the environmental law group Earthjustice such a revision would "put children at risk of pesticide misuse, injury, illness, and death." The group vowed to "defend these crucial protections every step of the way."