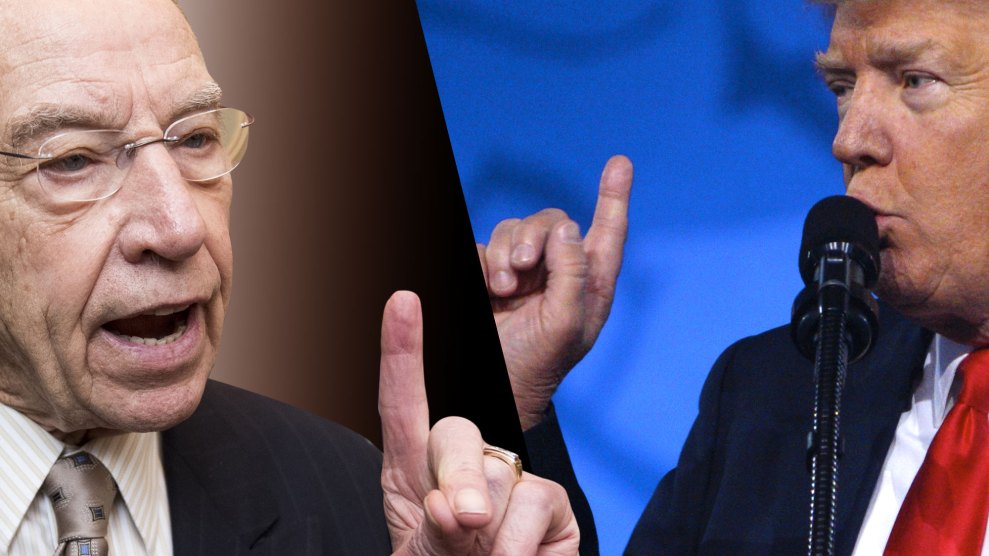 Fight disinformation:
Sign up
for the free
Mother Jones Daily
newsletter and follow the news that matters.
Having yet again teed up a multi-front trade war with the United States' biggest agricultural trading partners—Mexico, China, Canada, and the European Union—President Donald Trump's agricultural policy team is talking tough. Singling out China in a Monday USA Today op-ed, US Department of Agriculture Secretary Sonny Perdue declared that if "China does not soon mend its ways, we will quickly begin fulfilling our promise to support [US] producers, who have become casualties of these disputes."
Perdue wouldn't say exactly what form the support would take, noting that it's "not good practice to open our playbook while the opposing team is watching." But he appears to be suggesting that he'll soon be hitting up the US Treasury and paying farmers, directly or indirectly, to offset sales lost to foreign buyers retaliating against Trump's threatened tariffs. Despite his shrewd reticence in the USA Today piece, Perdue has been mulling such a program, according to Jim Wiesemeyer, Washington analyst for the trade journal Pro Farmer.
According to Wiesemeyer, Trump's aides are looking at ways to use the Commodity Credit Corporation (CCC), a division of the USDA created during the Great Depression, to "offer a financial backstop for farmers." The agency can borrow as much as $30 billion from the Treasury for the purpose, he says. Here's how it could look:
USDA could direct the CCC to purchase soybeans to buoy farmers' revenues. The CCC is able to assist through loans, purchases, payments and other operations. The CCC Act also authorizes the sale of agricultural commodities to other government agencies and to foreign governments and the donation of food to domestic, foreign, or international relief agencies
But not everyone in Trump's party supports the strategy of launching trade wars that hurt farmers' bottom lines and then opening the Treasury to offset their losses. According to a Monday Politico piece, Sen. Chuck Grassley (R-IA), a powerful member of the Senate Agriculture Committee, "told reporters during his weekly ag briefing last week that Trump pointed to Agriculture Secretary Sonny Perdue before telling a group of governors and lawmakers the federal government would subsidize any losses faced by farmers due to tariffs."
Grassley ain't having it. "I can also say that's not what my farmers in Iowa want—help from the federal treasury," Grassley told Politico. And he "reiterated his displeasure with the idea to Commerce Secretary Wilbur Ross at the Senate hearing on the tariffs last week, " the publication adds.
In other words, the large-scale farmers in states like Iowa, which Trump won in 2016, want an end to the trade wars—not more politically fraught government payouts.
Interestingly, in his op-ed, Perdue didn't cite currency exchange rates, access to China's market, or other common Trump grievances for fueling the administration's crusade against China. Rather, perhaps trying to gin up Heartland outrage, he pointed to a specific incident in 2011, when a "group of Chinese nationals dug up genetically engineered seeds from an Iowa corn field and planned to steal and send them back to China, so they could be reverse engineered." (Here's Ted Genoways 2015 deep dive into that strange episode.)
But as he notes in his piece, a state-owned Chinese chemical company bought Swiss seed/pesticide giant Syngenta in a $43 billion deal that closed last year. Syngenta draws a quarter of its revenues from selling seeds and chemicals in North America. So whatever Trump intends to accomplish by antagonizing trading partners, he's not going to stop Chinese farmers from having access to the same technology that's widely used on US fields.
As New York Times columnist and Nobel laureate Paul Krugman recently argued, "other countries won't quickly give in to US demands, in part because those demands are incoherent ..the idea that America is going to get major concessions anytime soon is deeply implausible."