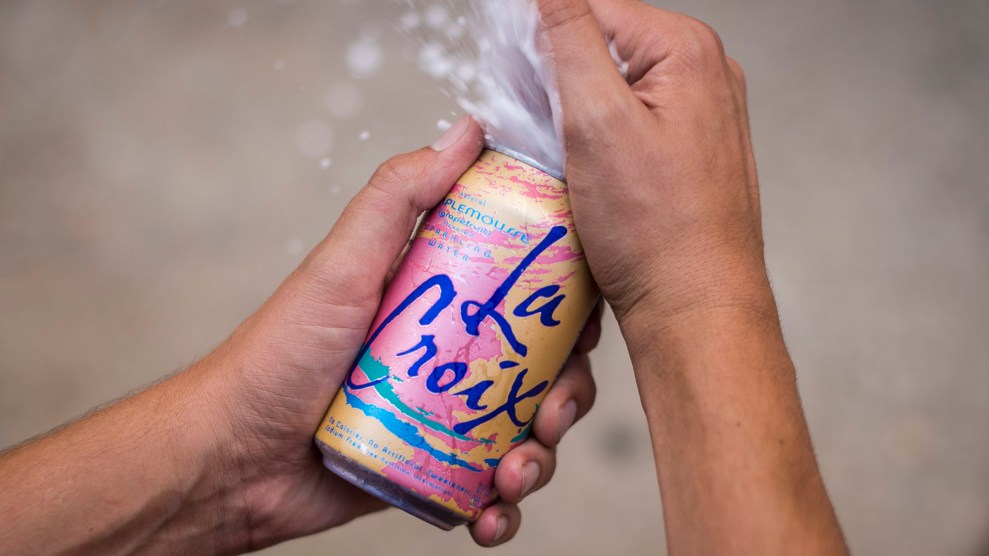 Fight disinformation:
Sign up
for the free
Mother Jones Daily
newsletter and follow the news that matters.
Even though its coconut-"essenced" sparkling water tastes like recycled suntan lotion, LaCroix has become one of America's hottest drink brands. That's largely thanks to its popularity with a kind of customer that National Beverage Corp. CEO Nick A. Caporella describes as "a cult-led, tech-charged millennial with 'change' power." In his effervescent reports to investors, the press-shy 82-year-old soda baron (who's worth an estimated $3.8 billion) eschews dry corp-speak for curiously capitalized declarations that evoke a boardroom Dr. Bronner. "I believe for good fortune to prevail, a combination of things must occur! First, one should have that special 'sidekick' relationship with their spiritual guardian and, next, be genetically equipped to be the master of their destiny!" he proclaimed in the company's 2017 annual report.
National Beverage acquired the sleepy LaCroix label in 2002 and repackaged it in a colorful can one designer described as "the love child of Monet and Grandma Moses." Earlier this month, a woman sued the company (whose other brands include Shasta and Faygo), claiming that it has mislabeled LaCroix as "all natural." In a press release titled "LaCroix Fans Outcry Loudly," Caporella channeled his customers' quasi-religious devotion to his brand: "There is an unspoken phrase within a cult—'We got each other's back!' Well, there has been a loud cry of support from our LaCroix consumers embracing the brand that they love—Don't hurt our LaCroix!"
Caporella—who closes his missives with the slogan "'Patriotism'—If Only We Could Bottle It!"—occasionally infuses his messages with a subtle essence of conservatism—including digs at former President Barack Obama and excitement about President Donald Trump. For more on Caporella's political poetry, listen to this week's episode of Mother Jones' food podcast, Bite, or enjoy the sampling below.
January 31, 2009: Less than two weeks after Obama takes office, Caporella writes, "As we all face the never-ending bombardment of dire news—foreclosures, bankruptcies, rising unemployment, global bank failures, billion dollar frauds, etc., etc., etc.—I am extremely grateful for…and proud of…our National Beverage!"
July 16, 2009: Five months after Obama signs a stimulus package, Caporella states, "Confidence can be stimulated in various ways, but trust, as in Brand Shasta, Faygo, Everfresh and LaCroix, is the main ingredient that is so synonymous with Confidence."
December 18, 2009: As the unemployment rate hovers around 10 percent, Caporella muses, "If more good thoughts provoked confidence in our lives—our work—our America—just maybe…renewed enthusiasm would breed job creation and that would ultimately put our America on a healthy—fiscal course again."
December 6, 2010: Amid threats of a government shutdown, Caporella riffs, "If they could pass a law that we (shareholders of America/voters) had the right to retroactively rescind our original vote—should they gridlock after elected—the abandoned-patriotic providers of our great America would profoundly…be reaffirmed! That's a—Yes!"
2011: In his company's annual report, Caporella gripes, "Ideals • Principles • Values—seem to be obscured these days by Energy • Eco • Green!"
April 19, 2012: Less than two months after Trayvon Martin is killed, Caporella laments, "In times of 'unparalleled circumstances', where 'Stand Your Ground' laws or Rogue Comments by the leaders of our country—unnerving even the mightiest—trigger dilemma in a jittery society. Drama has trampled our spirits, becoming our daily wake-up call! Well, the only Drama here at National Beverage is our devotion and passion to excel, in our commitment to 'create value for our shareholders'. That's it!!!…This is America…2012! (sad to say!)"
July 12, 2012: Caporella opines, "Have you ever observed someone on a busy street trying to parallel park?! While it's raining? Today, the license plate on that car would read—A M E R I C A ! That scene is a torrid depiction of our country—its political leadership—its economic torment—its shout-over TV news pundits—its divisive future—maybe, too…its once-upon-a-time promised opportunity! I pray not…"
November 23, 2012: Less than three weeks after Obama is reelected, Caporella grouses, "Final services for President Kennedy's—'What You Can Do For Your Country' were held November 6, 2012. Will traditional 'Golden Standards' also go the way of that challenge? Can the walls of a Fortress Balance Sheet be astute talent or dynamic creative and insure the same Philosophical Security to the investor?"
November 30, 2016: Less than a month after Trump is elected, Caporella gushes, "America put a capital 'H' on Hope again recently and with that—a capital 'H' on Health again too…this puts us in the cockpit of innovation and the yoke in our hands. We are excited and feeling good about the future here at National Beverage!"
January 27, 2017: As Trump takes office and talks up tax cuts, Caporella writes, "[N]ew tax rates will have a very positive effect on earnings for our heavily tax-burdened company. There is more than euphoria flowing through our well-hydrated actions here at your company…"
October 18, 2018: One day after Trump dismisses reports that Saudi Arabia murdered a journalist by comparing them to the allegations of sexual assault against Supreme Court Justice Brett Kavanaugh ("Here we go again with, you know, 'you're guilty until proven innocent"), Caporella fires back at the lawsuit accusing LaCroix of not being natural: "Is our moral code of justice, 'Innocent Until Proven Guilty', a once honored and revered dogma, now synthetic?…It is unfortunate we live in a time when unscrupulous and misleading allegations can be made with complete disregard for the reputation, credibility and integrity of a person, company or brand."