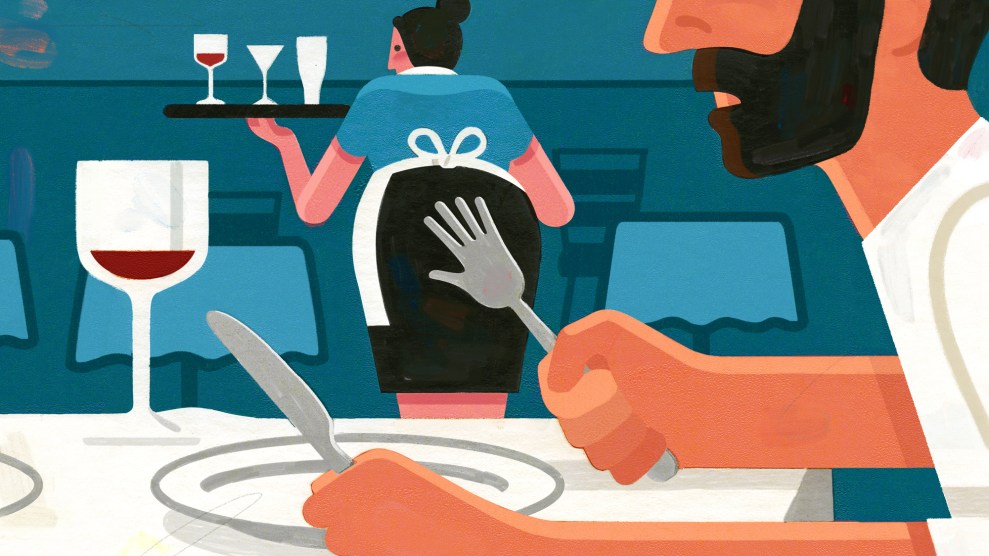 Fight disinformation:
Sign up
for the free
Mother Jones Daily
newsletter and follow the news that matters.
Erin Wade thought she was doing everything right. When she started Homeroom, a mac-and-cheese restaurant in Oakland, California, the former attorney made sure to hire women in leadership positions, had open staff meetings once a week, and pushed for gender parity in the kitchen. Locals loved the menu and cheerful atmosphere, and soon the eatery expanded into two. "I just thought we were set," she says. But three years ago, one of Wade's servers delivered some unsavory news: A father dining with his family had put his hand up her shirt as she cleared the table. Many of Wade's other staffers had similar stories.
Catalyzed by reports of sexual assault in Hollywood, thousands took to Twitter in late 2017 to share their #MeToo stories. Among them were many servers. And no surprise: From 2005 to 2015, the Equal Employment Opportunity Commission received more harassment complaints from people working in food services and accommodation (which are grouped together) than from any other industry listed. The movement soon helped expose misconduct by culinary legends like Mario Batali (who is being investigated by the New York Police Department), John Besh (who said the relationship was "consensual"), and Ken Friedman (whose restaurant now faces a New York state investigation).
But while ousting high-profile chef-owners may feel like redemption, it fails to address a common perpetrator of restaurant harassment: diners. In a survey of 688 restaurant workers published in 2014, 78 percent reported high levels of harassing behavior by guests. Will #MeToo force the industry to rethink its "customer is always right" slogan and make some changes to discourage bad behavior?
Back in 2015, after the creepy dad incident, Wade and her team came up with a new approach to dealing with customer abuse. If a guest makes a server uncomfortable, she signals a manager using code words: "Yellow," for unsettling looks or vibes, puts the manager on alert; "orange," in cases of borderline sexual comments, like "I love that shirt on you," indicates the supervisor will take charge of the table (though the tips will still go back to the server); and "red," for overtly sexual comments or touch, gets the customer kicked out for good. "No one starts by reaching their hand down someone's shirt," Wade explains. "Red" incidents quickly decreased, and now they happen maybe once a year. After Wade published an op-ed in the Washington Post, other restaurants decided to adopt the system, including Zingerman's Delicatessen in Ann Arbor, Michigan, and Euclid Hall Bar & Kitchen in Denver.
Homeroom even uses the system in its takeout location—a manager can sub in for the cashier if a customer makes inappropriate comments—leading Wade to believe it could work in fast-food companies or larger chains. But some experts think the government will have to step in. Servers in 43 states get what's called a "tipped minimum wage," as little as $2.13 an hour. These workers, two-thirds of whom are women, make up the rest of their wages with customer tips, which means "they have to tolerate whatever a customer does to them," explains Saru Jayaraman, head of the nonprofit Restaurant Opportunities Centers United. In the seven states that instead mandate a full minimum wage for restaurant workers, ROC's research has shown, workers suffer half the rates of harassment, likely because they "don't have to put up with anything to have some take-home pay," Jayaraman says. Washington, DC, voted to eliminate the tipped minimum wage in June, but the city council then overturned the initiative after area restaurants complained it was economically burdensome. In Michigan, where servers earn $3.52 per hour, a ballot initiative to eliminate the tipped minimum wage for the state's 350,000 restaurant workers was ready to go for the midterms—but the GOP-led Legislature bowed to pressure from business groups and voted to pass it instead, allowing lawmakers to more easily undo it later.
Wade is now developing workshops to teach other businesses how to use her system. She says she was even contacted by a male consultant who told her he had been hired by a tech firm to roll out her protocol. "Honestly, I was pissed off—a man monetizing the ideas of women," Wade says. "It's a simple system anyone can use," she adds, but without the right approach, you risk "introducing the same problematic power dynamics that create harassment in the first place."