Facts matter:
Sign up
for the free
Mother Jones Daily
newsletter.
Support
our nonprofit reporting.
Subscribe
to our print magazine.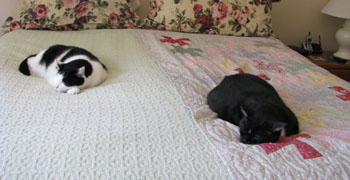 FRIDAY CATBLOGGING….TGIF, my friends, TGIF.
As usual, though, Felis catus has lessons for us all. Things are not as bad as they seem. We can all get along. A good night's sleep — followed by a good day's sleep — will make the world seem brighter. The only culture war worth fighting is the one between Friskies and Fancy Feast.
Which reminds me: does the Palin family own any critters? Are they dog people or cat people? Do they own hamsters? A fish tank? Or what? Why has the liberal media let us down on probing into this critical question?