Fight disinformation:
Sign up
for the free
Mother Jones Daily
newsletter and follow the news that matters.
BLAGO UPDATE….In a turn of events that should surprise no one, Barack Obama has investigated himself and discovered that his staff engaged in no wrongdoing in the Rod Blagojevich affair.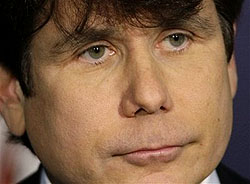 According to investigation czar Greg Craig, the accounts he received from staff members "contain no indication of inappropriate discussions with the Governor or anyone from his office about a 'deal' or a quid pro quo arrangement in which he would receive a personal benefit in return for any specific appointment to fill the vacancy."
The reason Craig uncovered nothing wrong is almost certainly because nobody did anything wrong. Unfortunately, investigating oneself isn't likely to convince anyone who doesn't want to be convinced in the first place, which makes me think there really ought to be some way for prosecutor Patrick Fitzgerald to weigh in on this. I guess the rules don't allow it, and rules are rules, but still. In the Valerie Plame case, he at least released enough information in the charging documents to allow people to draw their own conclusions about who did what to whom, and perhaps, eventually, he'll do it this time too. It really doesn't seem right to just leave this hanging forever.