Fight disinformation:
Sign up
for the free
Mother Jones Daily
newsletter and follow the news that matters.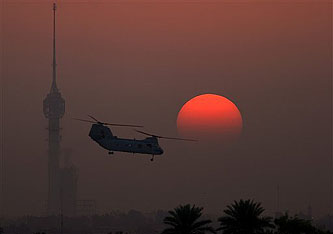 AP reports that Barack Obama has settled on a withdrawal schedule for Iraq:
President Barack Obama plans to remove all U.S. combat troops from Iraq by August 2010, administration officials said Tuesday, ending the war three months later than he had promised during his presidential campaign.

The withdrawal plan — an announcement could come as early as this week — calls for leaving a large contingent of troops behind, between 30,000 and 50,000 troops, to advise and train Iraqi security forces and to protect U.S. interests.
Reuters is slightly less positive about this, quoting an official saying only, "That's the way the wind's blowing."  And MSNBC's report adds a caveat from another official: "The 19-month withdrawal is based on assumptions — (on improved security) — and if those assumptions don't hold up, all bets are off, and we'd have to adjust."
Still, put this together with Obama's flat statement in Tuesday's speech that "I will soon announce a way forward in Iraq that leaves Iraq to its people and responsibly ends this war," and it sounds like we're finally getting out.  Not completely out, but then, Obama never promised otherwise.  For better or worse, we'll probably be living with his "residual force" for quite a while.