Fight disinformation:
Sign up
for the free
Mother Jones Daily
newsletter and follow the news that matters.
Responding to a David Frum column about the recent outbreak of freak-show hysteria among conservatives, Matt Yglesias says:
Now to be fair, during the Bush years more than one person passed me this "14 Characteristics of Fascism" document in order to prove that under George W. Bush the United States had become a fascist regime. Overreaction to policies you don't like is a pretty understandable human impulse. The difference is that mainstream, prominent outlets usually try to restrain that kind of impulse. But this sort of over-the-top rhetoric isn't burbling from the grassroots up, it's being driven the very most prominent figures in conservative media and also by a large number of members of congress.
Never were truer words spoken.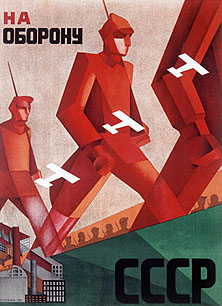 I was never a fan of the whole "Bush is a fascist" line, and over six years of blogging I was able to ignore it almost completely because it never broke out of its niche among the activist left.  You may or may not approve of that, but the simple reality is that aside from occasionally covering lefty protests and marches, mainstream pundits and politicians never took up this theme.  On the contrary, most of them ridiculed it if they ever noticed it at all.
But today's wingers, after Obama has been in office a grand total of 12 weeks, have already decided that we aren't merely on the road to serfdom, we're on the road to confiscation, tyranny, domestic gulags, and jackbooted thugs coming to take their guns away.  This time, though, it's not just fringe nutbaggery.  There's a whole brigade of right-wing pundits and politicians who are not only taking up the theme, but leading the charge.  They've gone completely crackers.
I still can't decide whether this makes the right more dangerous or less.  After all, if they go too far overboard, their crackpotism becomes so apparent that the whole movement becomes a joke.  On the other hand, if they aren't a joke yet, what's it going to take?
Besides, maybe they have a point.  Don't let this get around, but did you know that Barack Obama's Secretary of Defense has taken to quoting Joseph Stalin approvingly?  True story!  Click the link if you don't believe me.  And don't say that Glenn Beck didn't warn us about this.