Fight disinformation:
Sign up
for the free
Mother Jones Daily
newsletter and follow the news that matters.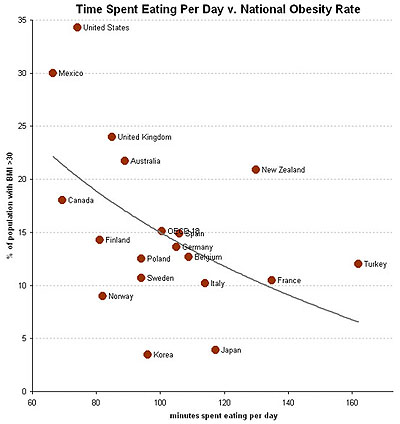 Via Alex Tabarrok, this comes from Catherine Rampell over at Economix.  It's either (a) genuinely fascinating or (b) a horrible abuse of crude chartmaking based on minimal data.
I think I'll vote for (a).  Due to an intestinal ailment in my 20s, I used to have to eat very slowly.  The result was just what you'd expect: I'd feel full pretty quickly and therefore didn't eat very much.
Around age 25, however, some clever doctor finally figured out what was wrong with me, prescribed a proton pump inhibitor (which sounded pretty space agey until my high school chemistry came back to me and I realized that "proton" is just another word for "acid"), and I've been fine ever since.  I can wolf down food as fast as the next guy.  Result: I eat dinner in about 20 minutes and I'm 30 or 40 pounds overweight.
Of course, I'm also 25 years older, and you might think that has something to do with my weight gain too.  Probably so.  But it still makes sense to me that slower eating habits lead to lower food intake.  That doesn't mean I'm eager to adopt the Italian habit of spending four hours over dinner, a practice that drove me nuts whenever I visited Italy on business, but it might not hurt.
Still, what's with the Turks?  They make the French and Italians look like pikers.  Are they just congenitally bored over there, or what?