Fight disinformation:
Sign up
for the free
Mother Jones Daily
newsletter and follow the news that matters.
A few days ago I linked to a Robert Reich post in which he suggested that the skyrocketing cost of student loans was forcing too many grads to take high-paying private sector jobs instead of lower-paying but more socially beneficial positions.  As a solution, he recommended limiting loan repayments to 10% of income for ten years, and I sort of agreed.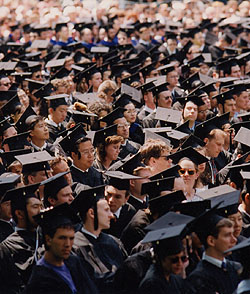 Well, that hasn't happened yet, but this morning Mike Kruger of the House Committee on Education and Labor emailed to tell me about some of the provisions of the recently passed College Cost Reduction and Access Act:
The biggest thing is the Income-Based Repayment Program that will cap a monthly payments based on income.

Under the income-based repayment program, such borrowers will never have to spend more than 15% of their discretionary income — an amount based on federal poverty guidelines — on student loan payments. Those whose income falls below 150% of the poverty level won't be required to make any payments.

Here's how it could work: Suppose a student has the average $22,000 in student loans, and gets a job making $25,000/year. Assuming the loans have a fixed interest rate of 5.6%, the monthly payment under the income-based repayment program would be $110, vs. $240 under a standard 10-year repayment plan. Obviously, when the student's income rises in the future, so will the payments.

For some students, the reduced payments won't cover the interest on their loans. For those with subsidized Stafford loans — which are provided to students who demonstrate economic hardship — the government will pay the interest for the first three years of the program.

For unsubsidized loans, the interest will be added to the balance, so a student could come out of the program with a larger loan balance. However, any amount owed after 25 years of qualifying payments will be forgiven. This is significant, because in the past, it was nearly impossible for borrowers to get out from under their student loan debts.
Now, this isn't what Reich was proposing.  You still have to pay back the full amount of the loan eventually (or make payments for 25 years, whichever comes first) regardless of your income.  But it's sort of a nudge in the right direction, so I thought I'd pass it along.