Fight disinformation:
Sign up
for the free
Mother Jones Daily
newsletter and follow the news that matters.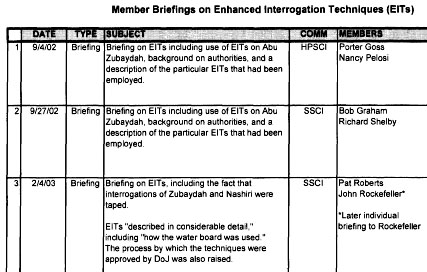 Did the CIA tell Nancy Pelosi about waterboarding back in 2002, when she was the ranking Democrat on the House Intelligence Committee?  The chart on the right, provided by the CIA, is the sum total of the evidence at hand: on September 4, 2002, Pelosi and Porter Goss met with CIA briefers, who describe the meeting this way:
Briefing on EITs [enhanced interrogation techniques] including EITs on Abu Zubaydah, background on authorities, and a description of the particular EITs that had been employed.
Pelosi says waterboarding was never mentioned.  And the CIA document, which specifically mentions waterboarding in a later briefing given to Pat Roberts and Jay Rockefeller, doesn't say it was brought up in the Pelosi meeting, even though Zubaydah had been waterboarded dozens of times by then.
Greg Sargent seems to think this means Pelosi is probably telling the truth.  Waterboarding a guy 80 times isn't something that just slips your mind, after all, so the fact that it's not mentioned probably means Pelosi was never briefed about it.
Unfortunately, I suspect we'll simply never know for sure — although Sam Stein reports today that a senior aide to another member of Congress says that waterboarding was never mentioned at other briefings held around the same time.  So right now, all we can do is guess.  Here's mine: both sides are probably twisting the truth.  I wouldn't be at all surprised if the CIA was a little cagey during its briefings in 2002, but I also wouldn't be surprised if members of Congress are now being a little cagey about exactly what they were told at the time.  The motivations on both sides are just too strong to expect otherwise.