Fight disinformation:
Sign up
for the free
Mother Jones Daily
newsletter and follow the news that matters.
Tyler Cowen provides us with a Three Word Explanation:
Median voter theorem.

It's my first-cut account of a lot of what is going on in the newspaper headlines.  Yet somehow I rarely see it mentioned, even when I read very prominent social scientists commenting on current policy.
By this, I assume Tyler is suggesting that the reason big-ticket programs like national healthcare and climate change legislation have bogged down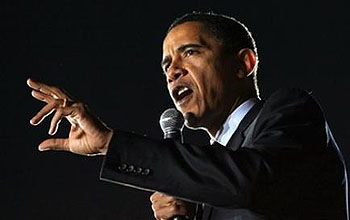 lately is because the median voter hasn't changed much over the past few years.  Congress and the presidency may have changed hands, but public opinion has shifted only slightly, and that means there's not really a very big appetite for dramatic change.
Barack Obama, of course, is the guy who has the job of changing this.  But can he?  Here's something written about Obama before last November's election:
Watching him in action for the past year, one thing has become more and more clear: He doesn't seem inclined to use his oratorical skill to truly shape public opinion. He's only using it to win votes.

….It's not clear yet if he gets this. His speeches soar, but they rarely seem designed to move the nation in a specific direction. Is he pushing the public to support cap and trade even though it might cost them a few dollars? Or merely to vote for "change"? It's sometimes hard to tell.

This is hardly an original concern. Liberal pundits have been stewing for months over the question of whether Obama is too cautious to win big victories, too invested in a narrative of bipartisan unity to get his hands dirty in a real street fight. As a former community organizer he understands the power of direct action, but does he understand how to shift public opinion on a national scale? And is he willing to try?
That was me back in October.  I'm still wondering. It's not so much that I think Obama has to abandon his bipartisan approach and approach politics as an endless blood sport, but that he needs to engage with the public much more sharply than he has until now.  When he talks, people listen, but I don't get the sense that they light up congressional switchboards the next day. One of these days, they need to start.