Fight disinformation:
Sign up
for the free
Mother Jones Daily
newsletter and follow the news that matters.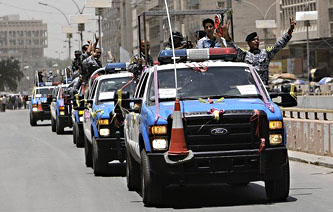 Phase 1 of the Iraqi withdrawal plan brokered by George Bush is now complete:
Six years and three months after the March 2003 invasion, the United States has withdrawn its remaining combat troops from Iraq's cities, the U.S. commander here said, and is turning over security to Iraqi police and soldiers.

While more than 130,000 U.S. troops remain in the country, patrols by heavily armed soldiers in hulking vehicles have largely disappeared from Baghdad, Mosul and Iraq's other urban centers. Iraqis danced in the streets and set off fireworks overnight in impromptu celebrations of a pivotal moment in their nation's troubled history. The government staged a military parade to mark the new national holiday of "National Sovereignty Day," and Prime Minister Nuri al-Maliki made a triumphant, nationally televised address.
The general consensus seems to be that this is a big deal.  And in one sense it unquestionably is: in a lot of ways, the "surge" was less about the number of new troops sent to Iraq than it was about the way they were deployed.  Gen. David Petraeus insisted from the beginning that they establish a direct presence in neighborhoods throughout Baghdad and other cities, and that presence — along with several other factors — played a substantial role in reducing violence.  Now that presence is gone.
And yet — those "other factors" were a big deal.  In combination, they were certainly a bigger deal than the surge itself.  So the big question now is whether the Sunni Awakening holds; whether Muqtada al-Sadr has genuinely been defanged; whether the sectarian cleansing of the past couple of years is over; and whether Maliki can keep things together if and when Kirkuk blows up.  And the even bigger question is whether he can do that when he no longer has American troops as a backstop to his own power.
We won't know that until U.S. troops actually leave the country, not just regroup outside the cities.  That's the real test.