Fight disinformation:
Sign up
for the free
Mother Jones Daily
newsletter and follow the news that matters.
One of the enduring mysteries of Sarah Palin is the Jekyll/Hyde transformation she underwent when John McCain chose her as his running mate.  As near as I can tell, Sarah Palin v1.0 was a relatively pragmatic governor of Alaska.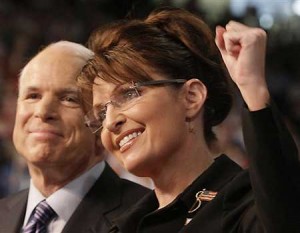 Sure, she was conservative, but for the most part the tribalism and rancor she sometimes displayed as mayor of Wasilla was absent.  She worked across the aisle and got things done.
Then the 2008 campaign happened.  Palin spent a couple of months on the national stage and developed such a fondness for her role as cultural attack dog — or perhaps redeveloped such a fondness for it — that she found herself either unable and unwilling to bother with actual governance once she got back to Juneau.  As Suzy Khimm reports in TNR, Alaska was just too small for Sarah Palin v2.0:
All of Palin's major bills failed to pass this year's first 90-day session. But conversations with both Republican and Democratic legislators reveal that Palin's inability to get anything done has little to do with the media attacks the Alaska governor claims drove her from office. The lawmakers say it has more to do with how national exposure changed her, moving her much further to the right than she had been and making her nearly impossible to work with. And state Republicans seem just as incensed about it as the Democrats.

….Upon returning to Juneau last fall, "she managed to alienate most of the 60 members of [the Alaska] House and Senate," says Larry Persily, an aide to state Republican Representative Mike Hawker. "It wasn't a matter of burning bridges — she blew them up."

Palin made it clear that she wasn't going to back away from the hard-line conservative ideology that had propelled her to national prominence…."The little bit of time she spent on policy, she devoted … to issues of national merit," says Republican Representative Jay Ramras. "It wasn't when but how she was going to throw Alaska under the bus."
Read the whole thing.  The main question it leaves in my mind is whether the national spotlight really changed her, or whether it merely reconnected her with an earlier style of politics-as-bloodsport that had been submerged for a short while she was in the Alaska statehouse.  Whatever the case, though, she clearly thrives on the know-nothing, resentment-based politics she practices with such gusto these days.  It's not going away anytime soon.