Fight disinformation:
Sign up
for the free
Mother Jones Daily
newsletter and follow the news that matters.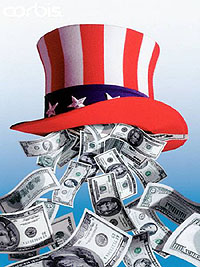 Congressional process wonk Stan Collender discusses one of my minor pet peeves today: the annual idiot-fest over increasing the debt ceiling:
This should be a purely administrative function. After all, in most cases the decisions to do the things that require the additional borrowing have already been made. But it usually turns into a political nightmare, because the party in the minority tries to use the vote to embarrass the White House and the majority by showing they can't govern, can't control their own Members, are big spenders, etc. In the meantime, interest rates are affected because Wall Street doesn't like not knowing whether the government will be able to go ahead with its already-scheduled borrowing.

….There was a time when Congress had to approve each borrowing done by the Treasury. When that proved to be unwieldy, the process was changed so that Congress only had to approve a ceiling and the Treasury was free to manage the debt up to that limit.

But the current debt ceiling no longer serves any meaningful purpose and instead is little more than an excuse for a political food fight….Borrowing decisions actually are made whenever a spending or revenue bill is adopted. So the new debt ceiling should be increased automatically as part of those decisions. Members of Congress who earlier in the year are more than willing to vote in favor of the spending increases or revenue reductions that require Washington to borrow more should not be allowed to vote against the legislation that actually allows the government to do that additional borrowing.
This is just common sense.  We all know perfectly well that the debt ceiling is going to be increased this year and every year after, and we also know perfectly well that our representatives in Washington already have plenty of opportunities to throw faux tantrums for the cameras.  They really don't need another one.  They have better things to do.