Fight disinformation:
Sign up
for the free
Mother Jones Daily
newsletter and follow the news that matters.
Counterinsurgency or counterterrorism?  Traditionally, the former requires lots of troops in order to root out and defeat a local insurgency while protecting the civilian population, while the latter requires only a small, light force to chase after bad guys and kill them.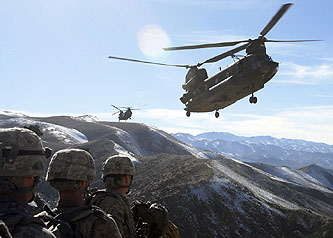 But Spencer Ackerman reports that in addition to top commander Gen. Stanley McChrystal, the two commanders of U.S. special forces, Vice Adm. William McRaven and Vice Adm. Robert Harward, both favor big troop increases to back up their counterterrorism efforts:
The fact that JSOC veterans like McRaven, Harward and McChrystal favor an overall counterinsurgency strategy with a counterterrorism component demonstrates that the military no longer believes distinguishing between the two is tenable in the Afghanistan war. "Special Operations Forces that were traditionally used for counterterrorism better understand how their capabilities fit into a counterinsurgency campaign than perhaps they did when the wars in Iraq and Afghanistan began," said Andrew Exum, a veteran of both wars and a fellow at the Center for a New American Security who over the summer advised McChrystal in a review of Afghanistan strategy.

….McRaven runs a secretive detachment of Special Forces known as Task Force 714 — once commanded by McChrystal himself — that the NSC staffer described as "direct-action" units conducting "high-intensity hits."….In a move signaling his own importance to McChrystal, Harward will arrive in Afghanistan later this month to command a new task force, known as Task Force 435, that will take charge of detention facilities in Afghanistan.

….The advice of McRaven and Harward to the White House strategy review, the [NSC] staffer said, was to push for a "heavy, heavy, heavy COIN [counterinsurgency] presence" in select population centers like the capitol city of Kabul, while relying on new or expanded counterterrorism units like Task Force 714 for hunting and killing terrorists outside of those population centers — particularly in areas like the porous border between Afghanistan and Pakistan, a key transit point for Taliban and al-Qaeda-affiliated insurgents.
Basically, there seems to be no support anywhere in the military for a light footprint in Afghanistan.  In a way, that's no surprise: why not get as many troops as you can, after all?  But it also highlights Obama's dilemma: regardless of where his heart is, it's almost impossible to defy military advice when it's nearly unanimous.  Picking one side vs. another is one thing, but trying to impose your own strategy on the entire bureaucracy is quite another.  It sounds like the light footprint never really had a chance.