Fight disinformation:
Sign up
for the free
Mother Jones Daily
newsletter and follow the news that matters.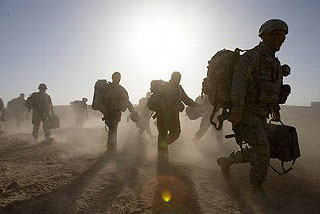 Like me, Fred Kaplan is glad he's not president right now.  Why?  Because he can't figure out what he thinks we ought to do in Afghanistan:
As with confronting most messes in life, the initial impulse is to flee. But if we simply pulled out, it's a near-certain bet that the Taliban would march into Kabul, and most other Afghan towns they'd care to, in a matter of weeks….Another problem with withdrawing is that it would signal, correctly or not, a huge victory for anti-American forces generally. If we left Afghanistan to the Taliban (and, by extension, al-Qaida), especially after such a prolonged commitment (at least rhetorically), what other embattled people would trust the United States (or the other putative allies in this war) to come in and protect them from insurgents? None, and they could hardly be blamed.

….I am uncomfortable making this case for two reasons. First, it's reminiscent of the bankrupt rationales, involving "credibility" and the "domino theory," for staying in Vietnam long after that war was widely viewed as a horrible mistake. But Afghanistan is different. The Taliban are not the Viet Cong, and Osama Bin Laden is not Ho Chi Minh; there is no case, this time, that the enemy has a just claim to power. And the stakes are much higher: Communists ruling South Vietnam was never a serious threat to our security;1 al-Qaida controlling a huge swath of South Asia is.

The second reason I'm uncomfortable about even saying this is that the argument can, and almost certainly will, be used to justify staying in Afghanistan if it turns out that this war is futile, too. It's easy to hear the generals saying, a year from now, "Three more brigades should do the trick, Mr. President" and "If we pull out now, Mr. President, our credibility will be severely compromised."
It's pretty hard to see how this ends well.  But I think what it demonstrates most strongly is the fantastic political nightmare involved in ever pulling out of a war that hasn't been decisively won.  Vietnam is the big-ticket example here, of course, but there are better ones.  Take Somalia.  After the Black Hawk Down incident in 1993, conservatives demanded that Bill Clinton pull out immediately.  Not another American life was worth risking for a barren patch of dirt on the Horn of Africa.  Clinton refused, insisting that we "finish the work we set out to do," and kept troops in country for another six months before withdrawing in an orderly way.
And what happened?  Conservatives turned around and immediately started building up a mythology that Clinton had lacked spine and immediately ran for the exits at the first sign of trouble.  Just like a Democrat to be so weak-kneed!  What's more, it's now received wisdom on the right that it was this panicky withdrawal that first convinced Muslim fanatics that America was weak and could be attacked with impunity.  In the end, Clinton took a hit for withdrawal even though he was the one who insisted on not cutting and running.
If that's what happens to a Democratic president who played a hawkish role in a small, unimportant war, what would happen to a Democratic president who played a dovish role in a big, important war?  Nothing good.  Pulling out of Afghanistan would have all the actual effects Kaplan talks about, but it would also be a political disaster.
I still plan to wait for Obama's speech tomorrow before I decide if his Afghanistan strategy is smart or not.  But even if it is, it was probably sadly inevitable.  The institutional support for war among the American chattering classes is just too powerful.
1Hoo boy.  That's easy to say now, but at the time it sure seemed every bit as important as al-Qaeda controlling a big chunk of Afghanistan seems to us.