Fight disinformation:
Sign up
for the free
Mother Jones Daily
newsletter and follow the news that matters.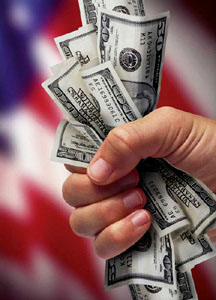 I don't want to underplay the political problems Democrats are facing in the upcoming midterm elections, but it's worth remembering that Republicans have a few problems of their own. National Journal reports that money is a big one:
The national GOP party committees continue to trail their Democratic counterparts, in receipts and/or in cash on hand. The grassroots "tea party" movement, which has channeled public anger over the economy and Democratic health care plans, has failed to translate into campaign dollars, and intraparty primary fights may drain GOP coffers for the general election.

Party donations from both incumbent GOP lawmakers and individual donors are sharply down. Profligate spending at the Republican National Committee has prompted grumbling in the GOP rank and file, and fueled simmering complaints over the RNC's sometimes-controversial chairman, Michael Steele.

…."It doesn't seem that the anger you're seeing nationally and in the polling is resulting in more dollars," said Carl Forti, a campaign and media strategist with the Black Rock Group, who previously held senior posts at the National Republican Congressional Committee and with Mitt Romney's presidential bid.

Forti added: "Some of the people in that tea party movement are frustrated with the party. They want to see a more conservative party and more conservative candidates supported."
The tea party movement has generated a lot of heat, but it's also generated a lot of intraparty rancor and quarreling. Steve Benen runs down the problems here. And conservative Ramesh Ponnuru points out in Time that the economy could revive, the Republican Party is still unpopular, Republicans are disorganized, they have no agenda, and the tea parties aren't enough anyway.
I continue to think that Democrats have the chance to make their own bed this year. Some losses are almost inevitable, but big losses aren't. If healthcare gets passed, the economy starts to pick up a bit, and Obama does something to help energize the liberal base, Dems could still do pretty well in November. As my sister frequently says to me in frustration, "Why should I vote for either of these parties?" Obama needs to give her an answer.