Fight disinformation:
Sign up
for the free
Mother Jones Daily
newsletter and follow the news that matters.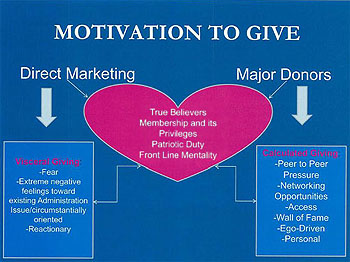 You know, when liberals claim that conservatives are rabid reactionaries motivated by fear, hatred, and greed, they say we're a bunch of coastal elitists who are out of touch with the feelings of real Americans living in the heartland. But guess what? In the privacy of their own fundraising PowerPoint presentations, it turns out that Republican Party honchos describe their base pretty much the same way:
The small donors who are the targets of direct marketing are described under the heading "Visceral Giving." Their motivations are listed as "fear;" "Extreme negative feelings toward existing Administration;" and "Reactionary."

Major donors, by contrast, are treated in a column headed "Calculated Giving." Their motivations include: "Peer to Peer Pressure"; "access"; and "Ego-Driven."
So who do you think should be more offended by this: small donors or major donors? I say major donors. The small givers are characterized as fearful and reactionary, and who knows? They might actually glory in that description. ("Reactionary? Hell yeah.") But the major donors who are supposedly motivated by peer pressure, access, ego, and greed? It's possible that their egos are so big they'll just assume this applies only to other major donors, not them, but probably not. If I were them, I'd be pretty pissed.
In any case, pay no attention to all this. "Chairman Steele did not attend" the presentation an RNC flack assures us. "Obviously, the Chairman disagrees with the language and finds the use of such imagery to be unacceptable. It will not be used by the Republican National Committee — in any capacity — in the future," he said. Click the link to see just what "imagery" he's talking about.