Fight disinformation:
Sign up
for the free
Mother Jones Daily
newsletter and follow the news that matters.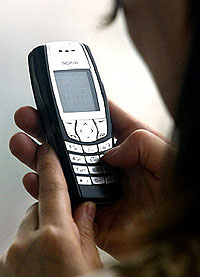 K C Cohen, a counselor at Riverdale Country School in New York, recently asked students to participate in an experiment: spend two days without texting. The results:
This text-free Sunday, the Riverdale students said, was unusually relaxing. They were shocked at how quickly they finished their homework, undistracted by an always-open video chat, or checking in on Facebook or responding to the hundred messages they typically get in a day. Kayla and her mother went for a stroll in SoHo, a rare outing, with them both off the computer.
I think we can count this as a data point against the idea that multitasking is a productivity boon. Kids today might multitask more than earlier generations, but that doesn't mean they're getting more done. Probably a good deal less, in fact. But this, I thought, was even more interesting:
The experiment left Kayla Waterman, a 12-year-old sixth grader, with a new appreciation for the convenience of texting over calling. On Monday morning, instead of texting, she called her mom to let her know there were "a gazillion fire trucks at school." Then she called right back: false alarm — fire drill. "I could tell she was getting annoyed because I kept calling," Kayla said. How many times during the school day does she usually text her mom? About 10, Kayla said; a friend nodded in agreement.

Boundaries between work and home have long since fallen, so maybe it should not be surprising that the same is true for school and home. But what middle school student 20 years ago would have voluntarily reached out to her mother 10 times between 9 a.m. and 3 p.m.? If school had any universally agreed upon upside, it was that it gave a 12-year-old some much-needed space to revel in independence or struggle with rejection — space in which, presumably, that 12-year-old could start to figure out who she was, or how he wanted to navigate the world.
I don't really have anything profound to say about this. But it does strike me that, in general, teenagers these days frequently have closer relationships with their parents than they did in the past. Obviously that has a good side as well as a bad one. They're more comfortable around adults at an earlier age, for example. But I wonder what the downside is?