Fight disinformation:
Sign up
for the free
Mother Jones Daily
newsletter and follow the news that matters.
Today's global warming news is about phytoplankton. These are the little bitty plankton that get eaten by bigger plankton which in turn get eaten by fish and whales and other marine life. Bottom line: no phytoplankton, no marine life.
For now, our oceans are still teeming with phytoplankton. But according to a team of researchers from Dalhousie University, our oceans are teeming with a lot less phytoplankton than in the past. Their study, published this week in Nature, concludes that the worldwide supply of phytoplankton has been declining steadily for the past century and has dropped by about 40% since 1950. Various things drive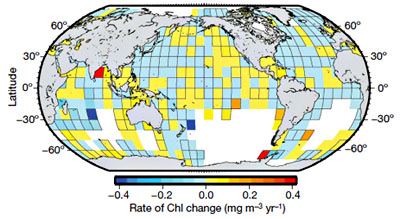 the phytoplankton supply in the short term, but the long term trend is correlated with rising surface ocean temperatures. Here's the soothing version of the news from the BBC:
"Phytoplankton… produce half of the oxygen we breathe, draw down surface CO2, and ultimately support all of our fisheries," said Boris Worm, another member of the Dalhousie team. "An ocean with less phytoplankton will function differently."

The question is: how differently? If the planet continues to warm in line with projections of computer models of climate, the overall decline in phytoplankton might be expected to continue. But, said, Daniel Boyce, that was not certain. "It's tempting to say there will be further declines, but on the other hand there could be other drivers of change, so I don't think that saying 'temperature rise brings a phytoplankton decline' is the end of the picture," he said.
And here's the sirens blaring version from Michael O'Hare:
This finding — and I'm trying hard not to hyperventilate here — is not too far down the scary scale from discovering a small inbound asteroid. This is the whole ocean we're talking about: the earth's production of organic material is going down half a percent per year.

….We can't live without the ocean, every time we look at climate change it's worse than we thought….We are so f____ed.
So, anyway, as temperatures rise the plankton die. As plankton die, they suck up less carbon dioxide, thus warming the earth further. Which causes more plankton to die. Rinse and repeat. Oh, and along the way, all the fish die too.
Or maybe not. But this sure seems like a risk that we should all be taking a whole lot more seriously than we are. Unfortunately, conservatives are busy pretending that misbehavior at East Anglia means that global warming is a hoax, the Chinese are too busy catching up with the Americans to take any of this seriously, and you and I are convinced that we can't possibly afford a C-note increase in our electric bills as the price of taking action. As a result, maybe the oceans will die. Sorry about that, kids, but fixing it would have cost 2% of GDP and we decided you'd rather have that than have an ocean. You can thank us later.