Fight disinformation:
Sign up
for the free
Mother Jones Daily
newsletter and follow the news that matters.
The New York Times, in one of its patented trend stories about the ultra privileged, says that plagiarism is on the rise. Here's the explanation:
Digital technology makes copying and pasting easy, of course. But that is the least of it.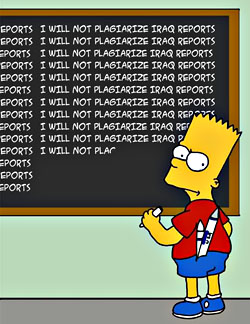 Wait. Just stop. Why is this the least of it? I'm willing to bet large sums of money that this is, in fact, virtually the entire explanation. The internet simply makes way more relevant text available to students and makes it far easier to copy. Compare this obvious explanation to the other claims offered up:
The Internet may also be redefining how students […] understand the concept of authorship and the singularity of any text or image…."Because you're not walking into a library, you're not physically holding the article, which takes you closer to 'this doesn't belong to me.' "….Undergraduates are less interested in cultivating a unique and authentic identity — as their 1960s counterparts were — than in trying on many different personas, which the Web enables with social networking….The main reason [plagiarism occurs] is because students leave high school unprepared for the intellectual rigors of college writing.
Seriously? College kids are redefining authorship? Old style physical books seem more like they're really written by someone else? Students no longer think of term papers as ways of expressing their unique and authentic identity? High schools suck?
Maybe so. God knows I can't prove any of these theories are wrong. But I'd sure guess that if you make something about a hundred times easier than it used to be, that's a pretty good guess about why that something is on the rise.
Of course, I cheated when I came to this conclusion. The author of the piece, Trip Gabriel, insists that modern kids barely even consider copying from the internet to be wrong. But at the very, tippy end of the article, we get this: "At the University of California, Davis, of the 196 plagiarism cases referred to the disciplinary office last year, a majority did not involve students ignorant of the need to credit the writing of others."
In other words, they know perfectly well that it's wrong. They do it because they're lazy and don't feel like trying to craft sentences of their own. Just like every plagiarist in history. But it would have ruined the story to put that near the top.