Fight disinformation:
Sign up
for the free
Mother Jones Daily
newsletter and follow the news that matters.
Felix Salmon points to a new research note from the San Francisco Fed about the effects of immigration on U.S. employment and productivity. The bottom line results are interesting: the author says that immigration has no effect on employment ("the economy absorbs immigrants by expanding job opportunities rather than by displacing workers born in the United States"); it has a strong upward effect on average income ("total immigration to the United States from 1990 to 2007 was associated with […] an increase of about $5,100 in the yearly income of the average U.S. worker"); and immigration improves an economy's total factor productivity dramatically.
Like I said: pretty interesting. But what I thought was even more interesting was the explanation that followed. Why does immigration increase average income? How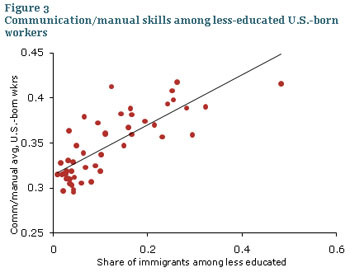 does it increase productivity and efficiency? Here's the scoop:
The analysis begins with the well-documented phenomenon that U.S.-born workers and immigrants tend to take different occupations….Because those born in the United States have relatively better English language skills, they tend to specialize in communication tasks. Immigrants tend to specialize in other tasks, such as manual labor. Just as in the standard concept of comparative advantage, this results in specialization and improved production efficiency.

If these patterns are driving the differences across states, then in states where immigration has been heavy, U.S.-born workers with less education should have shifted toward more communication-intensive jobs. Figure 3 shows exactly this….In states with a heavy concentration of less-educated immigrants, U.S.-born workers have migrated toward more communication-intensive occupations. Those jobs pay higher wages than manual jobs, so such a mechanism has stimulated the productivity of workers born in the United States and generated new employment opportunities.
What's really striking about this is that the very mechanism that provides the productivity boost — the fact that immigrants don't speak English well and therefore push native workers out of manual labor and into higher-paying jobs — is precisely the thing that most provokes the immigrant skeptics. They all want immigrants to assimilate faster and speak English better, but if they did then they'd just start competing for the higher paying jobs that natives now monopolize.
The usual caveats apply here. This is only one study. (Well, two actually, but still.) And in order to generate useful results the authors have to control for a whole menagerie of variables that can muck things up. There's always a chance that some important variable got missed or that another one got controlled for incorrectly. So don't take this as the last word. It does, however, join a growing literature that suggests immigration has no negative effect on wages and might actually have a positive effect. Interesting stuff.