Fight disinformation:
Sign up
for the free
Mother Jones Daily
newsletter and follow the news that matters.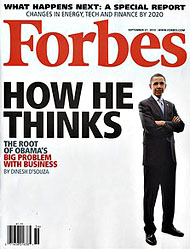 The White House gets it. Here's their reaction to the Dinesh D'Souza/Newt Gingrich contention that Barack Obama is motivated by neocolonial hatred of white people and the West:
"It's a stunning thing, to see a publication you would see in a dentist's office, so lacking in truth and fact," White House press secretary Robert Gibbs says in an interview. "I think it represents a new low."

Gibbs is meeting with Thursday afternoon with Forbes's Washington bureau chief, Brian Wingfield, to discuss his objections. "Did they not fact-check this at all, or did they fact-check it and just willfully ignore it?" he asks.

The magazine would not make Editor-in-Chief Steve Forbes, who ran for the Republican presidential nomination in 1996 and 2000, available for comment, or any other editor.
D'Souza is a longtime firebrand who gets his kicks saying outlandish things. Gingrich will do anything for attention. If that's all there was to this, it would hardly be worth responding to.
Except that this all appeared in Forbes, a mainstream magazine that, as Gibbs put it, "you would see in a dentist's office." That's something new.
Meanwhile, aside from designated reasonable guy Ramesh Ponnuru, I note that The Corner has been in complete radio silence over the Forbes piece for five straight days even though they were the ones who broke the Gingrich reaction story in the first place. That finally changed a couple of hours ago when Andy McCarthy declared that although he hadn't read the story, "I'm anxious to get to it" — because, unsurprisingly, he's pretty sure it's spot on. No one is ever obligated to blog about anything they don't want to, of course, but you'd think that when one of their own unearths a big ol' chattering class blockbuster like this it would prompt a little more chatter than that.