Fight disinformation:
Sign up
for the free
Mother Jones Daily
newsletter and follow the news that matters.
A few years ago I bought Marian a case of Dr. Pepper from a bottler in Texas that uses real sugar instead of high fructose corn syrup. She said it was fantastic. I couldn't tell the difference. I think that might be part of what's going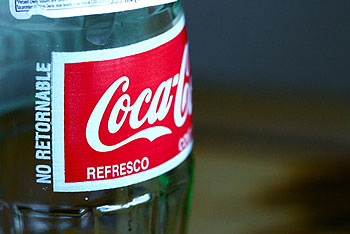 on in Jonah Lehrer's post about his preference for Mexican Coke (sweetened with sugar) to American Coke (sweetened with HFCS):
But here's the rub: Mexican Coke appears to be a cognitive illusion.

….Consider this clever study of soft drinks led by Samuel McClure and Read Montague. The experiment was a recreation of the Pepsi Challenge, except this time all the tasting was being done in a brain scanner. Each person swallowed sips of cola from a plastic tube while their brain was being scanned. When Coke and Pepsi were offered unlabeled, the subjects showed no measurable preference for either brand. Most of the time, they couldn't even tell the two colas apart. But Montague's second observation was more surprising: subjects overwhelmingly preferred drinks that were labeled as Coke, no matter what cola was actually delivered through the tubes. In other words, brand trumped taste. We cared more about the logo than the actual product.

….Mexican Coke has become my Coke. I see that glass bottle and I'm flooded with all sorts of dopaminergic associations, those smug feelings reminding me that I don't drink that generic high-fructose corn syrup crap. I drink the real stuff, the cola made with old-fashioned sugar. But those associations are almost certainly an illusion — my tongue is too crude a sensory device to parse the difference between Coke and Pepsi, let alone between slightly different formulations of the exact same drink.
It's possible that Lehrer's tongue is indeed too crude a sensory device to taste the difference between Coke and Pepsi. Mine probably is. But there's a sizeable minority who can tell the difference, and I suspect they tend to be proselytizers. Most of us may not be able to distinguish the tastes ourselves,1 but we aspire to be people who can, so we allow the proselytizers to convince us of something that our own senses don't really confirm. That kind of thing happens all the time in other circumstances, after all.
For the most part, this is probably the same phenomenon that McClure and Montague documented. We're both saying that people respond to more than just the taste of the colas, but they're ascribing the difference to packaging and advertising. I'm ascribing it to peer pressure, more or less, which eventually gets associated with the packaging and advertising. More research, please!
POSTSCRIPT: By the way, none of this means that the preference for one cola over another (or any food over any other) is "fake." If you prefer it, you prefer it, regardless of what's triggering the response. So don't be an asshole and go around telling people who like Mexican Coke that there's no difference. There is.
1Hell, in blind wine tastings lots of people can't even distinguish between reds and whites. We think we know a lot more than we really do.