Fight disinformation:
Sign up
for the free
Mother Jones Daily
newsletter and follow the news that matters.
What's the deal here? Yesterday Greg Mankiw observed that increasing spending by $1 billion and increasing taxes by $3 billion might technically reduce the deficit, but it's all just a bunch of fakery. It's really only the tax increase that does any deficit reducing. Today Charles Krauthammer takes up the same banner:
I've got a great idea for deficit reduction. It will yield a savings of $230 billion over the next 10 years: We increase spending by $540 billion while we increase taxes by $770 billion….This is a hell of a way to do deficit reduction: a radical increase in spending, topped by an even more radical increase in taxes.
Did conservatives meet on Wednesday and decide that this should be their latest brilliant talking point for use on Fox and Friends? Look: the CBO says that healthcare reform will reduce the deficit because the money it raises added to the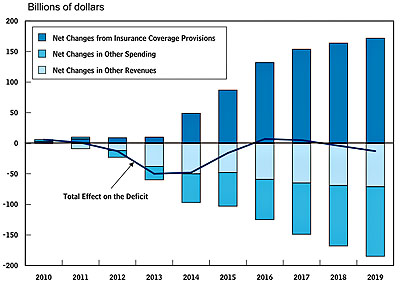 money it saves is greater than the amount of new money it spends. You can argue with this — though it would be nice if conservatives would do it honestly instead of endlessly recycling the same clumsy lies — but that's what the CBO says. The bill reduces the deficit.
And, yes, it also raises spending. Is this really a surprise? We've spent the past two years yelling at each other about this, after all. Of course it raises spending. That's the whole point. We're covering more people and expanding access to healthcare. If you don't like the idea of more people having access to healthcare, that's fine. Just say so. But if you do like the idea, it's not going to be free no matter how much smoke and mirrors you use to confuse things. No free lunches, guys.
Now, I'll concede one point to our conservative friends. Liberals have recently taken to suggesting that anyone who voted against healthcare reform is obviously a hypocrite about deficit reduction, since they voted against a bill that reduces the deficit. This is nonsense. PPACA, at best, reduces the deficit only slightly, and there are plenty of reasons for conservatives to dislike it even if it does, in the end, reduce the deficit a bit by raising taxes to cover its costs. If Mankiw and Krauthammer want to complain about that, I'll back 'em up.
But they should also be willing to concede the more important point: Democrats were basically pretty honest about funding PPACA. It's not, and was never intended to be, a deficit reduction bill. It's a healthcare reform bill. But it's a healthcare reform bill that largely pays for itself, and, by the standards of Washington politics, does it remarkably honestly. Hell, it could have passed months earlier and with a lot more goodies if Democrats hadn't been so obsessed with making sure it was properly funded. PPACA is, in fact, the most honestly funded major bill in at least the last decade, and probably in the last two decades. Does anyone care to seriously debate that?
And one more thing: there's a silver lining here. Mankiw and Krauthammer are, tacitly, conceding that tax increases reduce the deficit. Progress!