Fight disinformation:
Sign up
for the free
Mother Jones Daily
newsletter and follow the news that matters.
I'm not likely to blog very much about Libya, but I have to say there's an air of unreality surrounding a lot of the commentary that's starting to get on my nerves. Criticizing Obama for not consulting Congress is one thing. It's not as if this is some kind of unprecedented break with past practice or anything, but still. I get it.
But the "dithering" complaint? Give me a break. When did it suddenly become a personality defect to decline to intervene in a foreign rebellion the instant it broke out?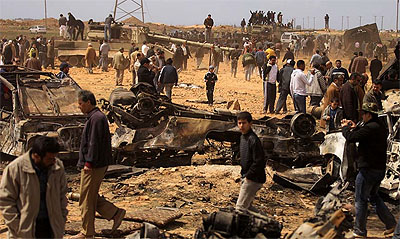 Isn't there anyone left who appreciates the fact that Obama still retains a few shreds of anti-interventionist instinct and moves in a deliberate fashion?
Then there's the "why did he change his mind?" nonsense. Answer: because when events on the ground are moving fast, presidents change their minds. How? Usually by first holding a meeting and getting lots of input. Obama changed his mind last Tuesday in exactly the same way that every president since George Washington has changed his mind.
And then the "following, not leading" complaint. Look: if the only thing you actually care about is showing just how manly the United States can be, this makes sense. But that's a pretty stupid justification. There's just no reason why America should be required to take the leadership role in every military action around the globe.
Finally, there's all the handwringing over why we're intervening in Libya but not Bahrain or the Congo or Yemen. Please. Muammar Qaddafi is a terrorist and thug who's been on practically everyone's shit list around the world for decades. He has no allies, no friends, and not much firepower. Getting rid of him looks like a doable mission, and there's no one really opposed. Other places either don't look very doable or else their autocrats happen to be U.S. allies. Maybe that's not the most honorable reason in the world for leaving them alone, but it's a reason followed by pretty much every national leader since the first nomad planted a wheat field in Ur and settled down. We shouldn't act quite so wide-eyed and shocked that the United States does too.
Look: I'm not really happy about the intervention in Libya. Like a lot of people, I'd like to know what our actual goals are. What's more, I'm not sure it'll be the cakewalk that Hillary Clinton and Nicolas Sarkozy seem to think, and I believe that for a variety of reasons the United States is best served by not giving anyone an excuse for thinking that the current round of rebellions in the Middle East are backed by American power and interests. It's better for us to keep a pretty low profile right now.
But an awful lot of the criticism is just so unremittingly juvenile that I can hardly stand listening to it anymore. Time to grow up, people.