Fight disinformation:
Sign up
for the free
Mother Jones Daily
newsletter and follow the news that matters.
Over the weekend the Washington Post ran a story about a DC lawyer who enriched herself by taking advantage of a contracting program intended to help poor Alaska natives, even though she isn't an Alaska native. She won $500 million in federal contracts and paid herself and her family hundreds of thousands of dollars along the way. David Boaz comments:
And so far this impressive story by Robert O'Harrow Jr. has generated 4 comments, 7 tweets, 11 "likes" on Facebook, and only one other blog post that I can find. Are we so jaded that a full-page investigation of self-dealing and corruption involving affirmative action, small business, defense contracting, and complicated financial maneuvers just doesn't get our juices flowing?
Jaded? Maybe that's the right word. More concretely, though, I think the problem is that although the details of this specific case are new, nothing else is. In fact, this scam is almost legendary. The basic program to help Alaska natives was set up back in the 60s, but in the ensuing decades a series of changes were made that allowed it to be widely abused — and these changes were made very deliberately, very ideologically, and with the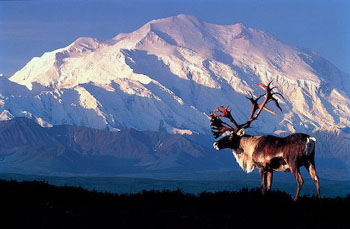 very determined help of former Alaska Sen. Ted Stevens. Here is Benjamin Wallace-Wells, in the Washington Monthly six years ago, describing how one particular tribe tapped into this latter day gold rush:
Stevens eventually inserted an exemption in the land claims settlement act that allowed native corporations to ignore sole source contracting limits….The senator worked to obtain additional benefits for them — most notably, loopholes in tax law — but by 1992, the corporations were still having a hard time getting their feet on the ground. That's when Chugach, down to 12 employees and in bankruptcy, hired Mike Brown….Brown convinced the SBA to list Alaskan natives as eligible for minority small business loans, and realized, with gathering excitement, that they had unique access to sole-source contracts.

….By law, minority-owned corporations and their subsidiaries are required to actually have a minority as CEO….Stevens soon got his colleagues to pass legislation exempting native companies from the minority CEO rule. Then Chugach grew too big to qualify for programs favoring small businesses; Stevens lobbied for and passed an amendment letting native corporations retain their small business status regardless of how large they become. And when Chugach began to approach the nine-year limit for a single company's participation in the small business program, Stevens won yet another statutory break allowing Alaskan native firms to create endless new subsidiaries so that the parent firm could have indefinite access to contracts.

….Yet another party stood to benefit from native contracting. By 2001, Bush administration officials saw in the sole-source exemption a way to privatize government quickly. That year, a joint venture of two native corporations — Chenega and Arctic Slope — won a no-bid, $2.2 billion deal to operate the Defense Mapping Agency, which uses sophisticated computer modeling to map potential battlefields. The companies didn't have any of the technical experience these contracts demanded, but they did have something else. Unfettered by the need to provide civil service protections to their employees, they cut staff and streamlined operations more aggressively than the federal government itself could have.

[Etc. etc.]

Indian tribes aren't the only ones eager to see the exemption expanded. While some in Washington are uneasy about its costs and corrupting effects, many in the GOP leadership view it as a model for the kind of federal government they would like to see more of. It is a privatized system that circumvents the civil service, enriches politically-connected corporations, provides a trickle of money to the poor, and secures Republican power. For some conservatives, in other words, the Eskimo loophole is not a failed experiment in social engineering. It is the future.
So there you have it: it's basically GOP-friendly privatization run wild, and the rules that allowed the abuse O'Harrow uncovered were no accident. They were all part of the plan.