Fight disinformation:
Sign up
for the free
Mother Jones Daily
newsletter and follow the news that matters.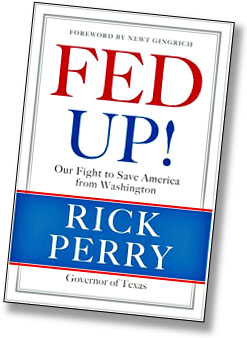 From Rick Perry, on August 14th:
Have you read my book, "Fed Up!" Get a copy and read it.
From Rick Perry's communications director, Ray Sullivan, on August 18th:
The book, Mr. Sullivan said, "is a look back, not a path forward." It was written "as a review and critique of 50 years of federal excesses, not in any way as a 2012 campaign blueprint or manifesto," Mr. Sullivan said.
This has been making all the usual rounds today, and why not? It's unusually dumb. Given the amount of — well, let's call it inconvenient bluster in the book — I guess Sullivan has to give this a try, but does he really think Perry can disown a book that he released nine months ago? That's not very swaggering and tea partyish. Sounds like Mr. Perry is all hat and no cattle.
Which of course makes this the perfect time for Sarah Palin to enter the race. We could use a common sense conservative who doesn't kowtow to the lamestream media. There's a real shortage of that in the Republican contest right now.