Fight disinformation:
Sign up
for the free
Mother Jones Daily
newsletter and follow the news that matters.
So what does the much discussed National Defense Authorization Act actually do? This is one of several topics that I've been too fatigued to seriously dive into over the past week, and after getting about 90 minutes of sleep last night I'm sure not going to do it today. Luckily, Adam Serwer has a pretty good rundown here of what it does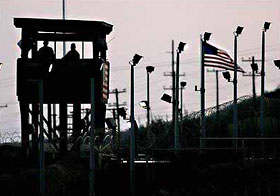 and doesn't do. It's worth a read, especially if you're confused about all the competing claims made about it as it wound its way through the sausage factory.
Bottom line: It's probably not quite as bad as you think, but it's hardly a triumph of civil liberties either:
So what exactly does the bill do? It says that the president has to hold a foreign Al Qaeda suspect captured on US soil in military detention—except it leaves enough procedural loopholes that someone like convicted underwear bomber and Nigerian citizen Umar Abdulmutallab could actually go from capture to trial without ever being held by the military. It does not, contrary to what many media outlets have reported, authorize the president to indefinitely detain without trial an American citizen suspected of terrorism who is captured in the US.

….Still, the reason supporters like Senator Lindsey Graham (R-S.C.) are happy with this bill is that it codifies into law a role for the military where there was none before. It is the first concrete gesture Congress has made towards turning the homeland into the battlefield, even if the impact in the near term is more symbolic and political than concrete.

But "symbolic" and "political" doesn't mean "meaningless." Codifying indefinite detention on American soil is a very dangerous step, and politicians who believe the military should have an even larger domestic counterterrorism role simply aren't going to be satisfied with this. In fact, if there is another attack, it's all but certain they will hammer the president should he choose not to place the suspect in military detention.
Read the whole thing for all the details.