Fight disinformation:
Sign up
for the free
Mother Jones Daily
newsletter and follow the news that matters.
Ha ha. I was just kidding in the last post. It got cut off because, um, my cat knocked over a power line and my neighborhood lost electricity for a bit. But we're all good now! And I'd just like to say that Barack Obama is the kindest, bravest, warmest, most wonderful president a country could ever hope to have.
Anyway. As we all know, President Obama's most dangerous enemy is Ron Paul, and it's now my duty to tear him down so that his siren call of freedom will never reach the American people. So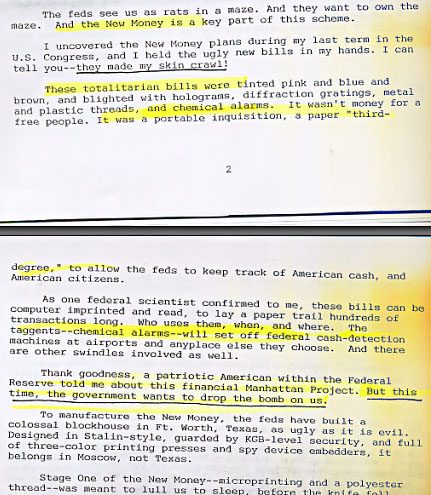 here you go: a fundraising letter "written" by Ron Paul in, I guess, 1991 or so. Question: what the hell is he talking about here? He's scared, he says, by the government's announcement of "New Money," which could wipe you out and leave your family destitute.
Answer: as near as I can tell, he's babbling about the introduction in 1991 of new currency designed to be harder to counterfeit. It made his skin crawl! The bills were tinted pink and blue! And they were being printed in — a nondescript building that has security measures and three-color printing presses!
There's also some stuff about new federal rules requiring you to report cash transactions over $10,000, and I can at least understand a guy like Ron Paul having nightmares about that.
But new currency designed to be hard to counterfeit? That's a totalitarian nightmare? You know, even a stopped clock is right twice a day, and the fact that Ron Paul has a few good ideas doesn't mean he's not a lunatic kook. He is. He's a lunatic kook who's learned to speak in complete sentences1 and whose kookiness occasionally overlaps with the pet ideas of both left and right.
But he's still a kook.
1In fairness, a lot of kooks have learned this trick recently.
UPDATE: More here. Much more.