Fight disinformation:
Sign up
for the free
Mother Jones Daily
newsletter and follow the news that matters.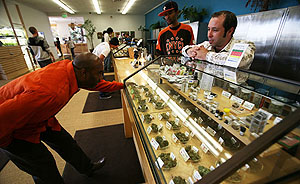 Over at Rolling Stone, Tim Dickinson has a good piece about the Obama administration's sudden about-face on medical marijuana. Initially they made soothing noises and announced that they wouldn't target pot dispensaries that complied with state law. Then, last year, everything changed:
The reversal began at the Drug Enforcement Agency with Michele Leonhart, a holdover from the Bush administration who was renominated by Obama to head the DEA…Almost immediately, federal prosecutors went on the attack. Their first target: the city of Oakland, where local officials had moved to raise millions in taxes by licensing high-tech indoor facilities for growing medical marijuana…Two months later, federal prosecutors in Washington state went even further…In isolation, such moves might be seen as the work of overzealous U.S. attorneys, who operate with considerable autonomy. But last June, the Justice Department effectively declared that it was returning to the Bush administration's hard-line stance on medical marijuana. James Cole, who had replaced Ogden as deputy attorney general, wrote a memo revoking his predecessor's deference to states on the definition of "caregiver."…Pot dispensaries, in short, were once again prime federal targets, even if they were following state law to the letter.
As I was reading this piece I kept asking why this had happened. But it was all very mysterious. Finally Dickinson provided the best answer he could:
Supporters of medical marijuana are baffled by Obama's abrupt about-face on the issue. Some blame the federal crackdown not on the president, but on career drug warriors determined to go after medical pot…The White House, for its part, insists that its position on medical pot has been "clear and consistent."…But the official makes no attempt to explain why the administration has permitted a host of federal agencies to revive the Bush-era policy of targeting state-approved dispensaries.

…The administration's retreat on medical pot is certainly consistent with its broader election-year strategy of seeking to outflank Republicans on everything from free trade to offshore drilling…But the president could pay a steep price for his anti-pot crackdown this fall, particularly if it winds up alienating young voters in swing states like Colorado, where two-thirds of residents support medical marijuana…"Medical marijuana is twice as popular as Obama," notes [Rob] Kampia. "It doesn't make any political sense."
None of this makes much sense. Leonhart was a holdover. Nothing changed when she was reappointed. And US Attorneys don't report to DEA anyway. Nor do deputy attorney generals change policy on their own. It has to be approved higher up.
So obviously Obama and Eric Holder went along with this. But Kampia is right: medical marijuana is pretty popular. Some cities, like Los Angeles, have recently cracked down on it, but no one was really begging the federal government to get more involved. And it wasn't a wedge issue either. I don't think the tea party or anyone else on the right was making a big deal out of this. There was really no compelling political reason to change direction.
So why did Barack Obama suddenly decide that a benign attitude toward medical marijuana was a loser? It is a riddle wrapped in a mystery inside an enigma.
UPDATE: Tim Fernholz suggests an answer: when the Obama administration saw the results of its own policy, it got nervous and backed away:
As fear of federal prosecution lessened, more states began adopting or considering medical marijuana laws; where the practice was already legal (as it was in California), there was a boom in the marijuana trade. Operating in a grey market between the federal prohibition and untested state rules, dispensaries of all kinds operated without much supervision.

…Though law enforcement officials could not point to any commensurate increase in crime, all that activity made the federal government uneasy: It realized that tacitly allowing states to regulate medical marijuana had far-reaching consequences that it wasn't entirely comfortable with…With local and state officials writing letters to their U.S. Attorneys, asking for their thoughts on various schemes to license marijuana growers and distributers, the federal government decided to take a tougher line.