Fight disinformation:
Sign up
for the free
Mother Jones Daily
newsletter and follow the news that matters.
Dan Malouff reports that enclosed malls are shutting down all over the Washington DC metro area. Atrios comments:
There's an absolutely absurd amount of retail floor space in this country, so this isn't all that surprising.
But there are two things going on here. First, as the chart on the right shows, there was a big spike in construction of retail space between 2004 and 2007 that was unsustainable, and the Great Recession unsustained that spike with extreme prejudice. So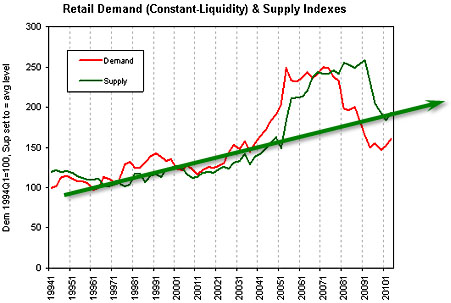 in one sense, no, it's not that surprising that a bunch of retail space has shut down recently.
At the same time, the long-term trend is up, up, up, and the recent bursting of the retail bubble, which was part of the wider commercial real estate bubble, seems to have run its course. (Knock wood.) But despite that, enclosed malls are still shutting down, part of a trend that's been going on for years. Here in my neck of the woods, for example, I don't think a new enclosed mall has been built in the past 20 years. But that doesn't mean retail is dead. During that same period, three gigantic open-air retail centers have opened within five miles of my house, each with over a million square feet of retail space. For some reason, enclosed malls are out and open-air "power centers" (or "lifestyle centers" or whatever they're calling them these days) are in.
I actually find this a little inexplicable. Here in Southern California it makes at least a bit of sense, since the weather is generally pretty good. Outside the sunbelt, though, not so much. What's more, these outdoor malls are a pain to navigate. In a typical enclosed mall, parking forms a ring around the structure itself, which is fairly compact and walkable. But the outdoor malls are often just the opposite: a gigantic parking lot with stores in an outer ring. This means that it's a long walk if you want to visit more than one store.
So why are enclosed malls on the outs? They're good in all weather, and they're convenient if you want to shop at a bunch of different stores. Open air malls are neither. On the other hand, if you want to shop at one store, and park close to it, they're a better option. And they're outdoors. If you like walking around in the fresh air, they're pretty appealing.
In any case, I've never entirely understood this trend. But it's been going on for a long time, so it's more than just a short-term fad. Enclosed malls are dead. Long live the outdoor mall.