Fight disinformation:
Sign up
for the free
Mother Jones Daily
newsletter and follow the news that matters.
Today I want to tell you a little economic fable. My tale is about a family with two members: Dad and Junior. Dad earns $100 per month in the lucrative field of political blogging. Junior earns $10 per month from his lemonade stand. He uses his money to buy comic books, and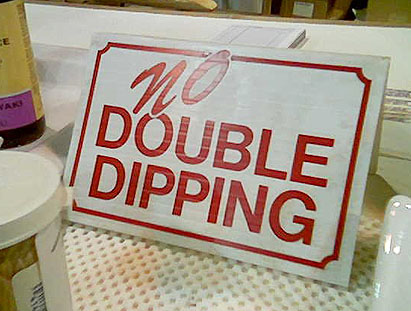 if he has any money left over at the end of the month he gives it to Dad, who gives him an IOU in return. Over time, Junior has built up $25 in IOUs from Dad. Needless to say, Dad has long since spent the money that Junior gave him.
Our story opens in January. Junior has discovered some new comic books that he likes, so he starts spending $15 per month on comics. His lemonade income isn't enough to cover this, so he finances his habit by cashing in $5 worth of IOUs each month. This goes on for three months, and during that time Dad has $95 to spend on food, clothing, and other necessities of life.
In March, Junior realizes that he only has $10 worth of IOUs left. At his current rate of comic consumption, he'll run out by the end of May! So he decides to cut back: from now on, he'll buy only $12 worth of comics per month. This means he has to cash in only $2 per month in IOUs.
There are two consequences of Junior's decision to cut back:
Dad has $98 to spend instead of $95. This is no mirage. It's real money that he can spend on additional stuff.
Junior's stock of IOUs will now last longer. Instead of running dry in May, it will last through August. Again, this is no mirage. His IOUs really will last longer.
Do you see what this means? Both of these things are true. Dad really does have more money to spend, and Junior's stockpile of IOUs really will last longer. There's no effect on total family spending, and no effect on total family debt.
In essence, this is the story of Obamacare and the great "double counting" flap, which has gotten a new lease on life following the release of a new report from Charles Blahous, a Republican trustee for Medicare. Blahous is retailing a conservative story of long standing, namely that Obamacare double counts its planned savings from Medicare.
But it doesn't. In the story above, Dad is the federal government, Junior is Medicare, and the IOUs are treasury bills. When Medicare spending is cut back — as it is under Obamacare — it cashes in fewer treasuries. This means that the federal government has more money to spend on other healthcare needs and that the Medicare trust fund will last longer. Both these things are true. And there's no net effect on either spending or the deficit. Other actions of the federal government, which has unlimited taxing and borrowing power, might increase both spending and the deficit, but this particular mechanism doesn't.
Now, there are other things you can say about all this. You might be skeptical that Obamacare's spending cuts will actually pan out. You might want to re-run the deficit numbers now that HHS has given up on the CLASS Act. You might believe that Obamacare is likely to cost more than anyone estimates right now. That's all fine. Beyond that, you might, as Blahous does, worry that extending the life of the Medicare trust fund will lull everyone into complacency and delay an all-out effort to rein in Medicare spending. Or you could go further, as Blahous also does, and assume that without Obamacare we'd already be feverishly at work cutting back Medicare benefits. The fact that we aren't therefore counts as additional spending and bigger deficits.
That seems to me like an eccentric way of looking at things, but Blahous certainly has the right to do so. What he can't do, however, is pretend that there's double counting here. There just isn't.
UPDATE: Ezra Klein tackles this issue in a more conventional way here.