Fight disinformation:
Sign up
for the free
Mother Jones Daily
newsletter and follow the news that matters.
In my review of Drift yesterday, I mentioned Rachel Maddow's contention that going to war used to be hard, but over the past 30 years it's become much easier. Over at TalkLeft, Armando comments:
That is not historically accurate in my view. The times getting into war was not easy was after wars that had been very costly and not particularly successful from the US point of view. Think World War I and Vietnam. Otherwise, going to war has been one of the great American pasttimes. I'm all for making going to war hard, but the history does not demonstrate that, except for isolated periods, that was ever really the case in the United States.
Jonathan Bernstein says something similar: "US-sponsored interventions of one form or another are hardly unusual, even before Maddow's apparent jumping off point in the Reagan Administration. Perhaps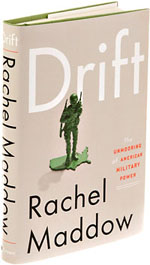 the idea is that there was a golden age of sorts after Vietnam, but if so it lasted less than a decade. I'm not really sure it's become easier to deploy troops for controversial missions or to begin interventions in other nations. Maybe, but I'm not sure."
I think these are good points, and if there's a weakness in Drift, it's not addressing this as completely as it should — both the longstanding fact of periodic war and the longstanding fact of congressional acquiescence. Because it's true that the United States has prosecuted lots and lots of small-scale foreign wars over the past century, and has generally done so without congressional approval. Conversely, it's also true that big wars, even recent ones, have gotten congressional approval. George H.W. Bush may have hated the idea of getting Congress's blessing for the Gulf War, but in the end he did. And like it or not, George W. Bush also got congressional approval for Afghanistan and Iraq. In fact, extremely strong congressional approval.
So what's different? I'd say this: it's one thing to periodically wage brief, smallish military actions. The Dominican Republic occupation of 1965 falls into that category. So do Grenada and Panama. Without getting into the merits of any of these actions, you can at least say that they were limited and isolated.
But the last couple of decades seem quite different. The Gulf War, followed by Somalia, followed by Haiti, followed by Kosovo, followed by Afghanistan, followed by Iraq, followed by Libya and Yemen, and all against a background of drone warfare that now seems all but perpetual, feels very different. It feels like we're simply in a constant state of military action. In the last 20 years, there have only been three or four in which the U.S. military wasn't at war. (And I'm not even sure about the three or four.)
So I think that's a real difference, and the policy drift that Maddow talks about in her book bears a big part of the blame for this.
One thing that she doesn't talk about at any length, though, is the War Powers Act. That's too bad, because its toothlessness is a key reason for our current state of affairs. The problem with the Act isn't just that presidents have historically never accepted it. It's that it fundamentally doesn't work. It allows presidents to deploy troops for 60 days, after which they're required to get congressional approval. But even in theory that's just not tenable. Without some kind of acute provocation — Vietnam is the only example in recent memory — no Congress will ever withdraw troops once they're in the field. They'll hem and haw and mug for the cameras, but they won't pull troops out of a hot battlezone. It's just never going to happen.
Is there a better way? One possibility, if it could be codified properly, is to simply make de jure the current de facto distinction between big and small wars. In reality, presidents have always had the power to unilaterally launch small wars. So maybe it would be best to go ahead and let them continue doing it. But in return, big wars don't get launched at all unless Congress approves. That way there's no question of pulling troops out of a fight. They don't even get into one unless Congress OKs it.
In practice, I don't know how you'd do this. How do you define a "big" war? By number of troops? Cost? Some other metric? And how do you define the exceptions? I'm not sure it's possible. But it would be interesting to hear some smart people toss this around to see if they could come up with something. Even if nothing gets changed, it's a topic that's at least worth talking about again. The nature of war has changed a lot since the War Powers Act was passed in 1973, after all.