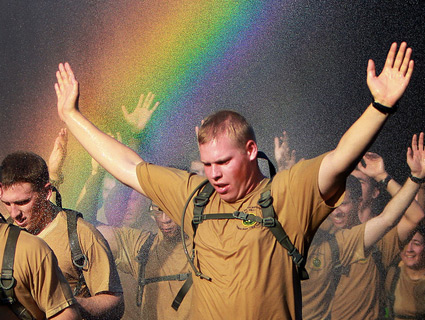 Fight disinformation:
Sign up
for the free
Mother Jones Daily
newsletter and follow the news that matters.
Adam Serwer is filling in while Kevin is on vacation.
Richmond prosecutor Tracy Thorne-Begland, a former Navy fighter pilot, had his nomination to a state judgeship in Virginia rejected early Tuesday morning. Democrats say it's because he's gay; Republicans say it's complicated:
"He holds himself out as being married," said Del. Robert G. Marshall (R-Prince William), who is running for U.S. Senate. Noting that gay marriage is not legal in Virginia, he said that Thorne-Begland's "life is a contradiction to the requirement of submission to the constitution."

[…]

Marshall, the Family Foundation of Virginia and others who raised concerns about Thorne-Begland's nomination said they did not object to him because he is gay, but because of his outspokenness on the subject of gay rights.
Thorne-Begland also supported the repeal of the military's discriminatory Don't Ask Don't Tell policy. So it's not, strictly speaking, correct to say Thorne-Begland was rejected because he was gay. He was rejected because he believes being gay entitles him to the same rights as people who aren't. If Thorne-Begland had lived a life of closeted celibacy and talked like Tony Perkins, Marshall would have thought he was qualified to serve as a judge. This is coming from a guy who tried to install a state-level DADT policy for the Virginia National Guard because "If I needed a blood transfusion and the guy next to me had committed sodomy 14 times in the last month, I'd be worried."
Virginia Republicans didn't reject Thorne-Begland because he's gay, but because he supports gay rights. The closet magically eliminates sexually transmitted diseases, which are never contracted by heterosexuals. Some voters in Virginia apparently find this kind of logic compelling enough to keep Marshall in office.