Fight disinformation:
Sign up
for the free
Mother Jones Daily
newsletter and follow the news that matters.
On Thursday I wrote that fiscal imbalances were the eurozone's fundamental problem. In a nutshell, if the euro is going to survive, either periphery countries have to become more competitive and boost their exports or else core countries will have to subsidize them with gigantic amounts of aid pretty much forever. Unfortunately, neither of those options seems very likely.
But James Wimberley says things might not be as bleak as I think. Spain is the current epicenter of Europe's problems, and Gavyn Davies writes in the Financial Times that Spain's labor costs have been converging toward the European average for the past three years and could become fully competitive within another couple of years. James says this actually understates the improvement Spain is making:
Spain itself is part of the Euro average. So are the other countries in trouble: Greek and Irish labour costs have also shrunk, and Italian ones have plateaued. If you look at Spanish labour costs relative to the trade-surplus Euro core (France, Germany, Netherlands, etc) the improvement is even sharper.
I was curious about that, so I took a look at a simpler comparison: Spain vs. Germany. In this case, it turns out that convergence is more like three or four years away, not two: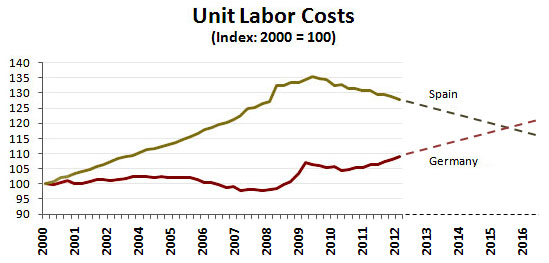 The main reason the chart begins in 2000 is because that's when the data series starts, but it's not a bad starting point anyway. 2000 is just before the big post-euro runup, and represents a time when Spain and Germany were fairly competitive with each other. If they can return to a point where they're relatively as competitive as 2000, Spain could start digging itself out of its troubles and the euro could survive.
But that's a big if. It assumes no big shocks — like, say, Greece exiting the euro. It assumes that both Spain and Germany maintain their paths of the past three years. It assumes that the euro can survive three or four more years of fiscal imbalances. It assumes that austerity doesn't destroy Spain's economy completely. It assumes that being competitive with Germany is enough to make Spain competitive with the rest of the world too.
That's a lot of ifs, and it's why I remain fairly pessimistic. Still, it goes to show that, outside of Greece, Europe's problems may not be impossible. If Germany were willing to do something to accelerate convergence between the core and periphery, not just stay on the present path, and commit to gradually rising cross-country fiscal transfers, then better days might not even be all that far off. I'm not sure what the odds are of that, though.