Fight disinformation:
Sign up
for the free
Mother Jones Daily
newsletter and follow the news that matters.
Over the years, I've ended up on mailing lists for a variety of liberal and conservative organizations. These are folks who want my money, and I've long been intrigued by the difference between the two.
There is, of course, hyperbole on both sides. Liberal pitches, for example, occasionally imply that Republicans want to forcibly impregnate every woman in America or allow Goldman Sachs to run the Treasury Department. But this is the exception, not the rule, and even where there is hyperbole, it's at least firmly grounded in a genuine, concrete issue of some kind. Republicans really would ban abortion if they had the power, and Wall Street really does have way too much influence on American economic policy.
But right-wing pitches are altogether different. I'll grant you that the stuff I get from official outlets like, say, the National Republican Senatorial Committee, tends to be (barely) on the sane side of things. But by far, most of the mail is from conservative groups that are just flat-out nuts. The United Nations is going to herd us all into urban concentration camps. George Soros plans to destroy the dollar. Obama is turning America into a slave state. The Army will be deputized to go house-to-house searching for guns as soon as Inauguration Day is safely past. Under Obamacare people with the wrong political attitudes will be denied the right to see a doctor. This stuff is simply endless.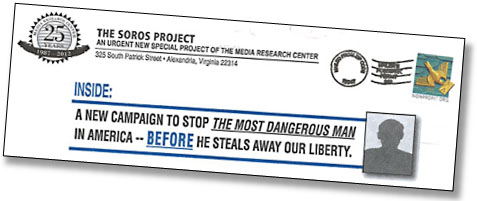 Why? Andrew Sullivan links today to a Baffler piece by Rick Perlstein that I missed when it first came out, in which he walks us through the story of right-wing fundraising. It is, he says, a toxic blend of standard come-ons (get-rich-quick schemes, miracle cures suppressed by "the elites," etc.) and political come-ons (send money now to prevent the UN takeover of America):
The strategic alliance of snake-oil vendors and conservative true believers points up evidence of another successful long march, of tactics designed to corral fleeceable multitudes all in one place—and the formation of a cast of mind that makes it hard for either them or us to discern where the ideological con ended and the money con began.

…But the New Right's business model was dishonest in more than its revenue structure. Its very message—the alarmist vision of White Protestant Civilization Besieged that propelled fundraising pitch after fundraising pitch—was confabulatory too…And, in an intersection that is utterly crucial, this same theology of fear is how a certain sort of commercial appeal—a snake-oil-selling one—works as well. This is where the retail political lying practiced by Romney links up with the universe in which 23-cent miracle cures exist (absent the hero's intervention) just out of reach, thanks to the conspiracy of some powerful cabal—a cabal that, wouldn't you know it in these late-model hustles, perfectly resembles the ur-villain of the conservative mind: liberals.

In this respect, it's not really useful, or possible, to specify a break point where the money game ends and the ideological one begins. They are two facets of the same coin—where the con selling 23-cent miracle cures for heart disease inches inexorably into the one selling miniscule marginal tax rates as the miracle cure for the nation itself. The proof is in the pitches—the come-ons in which the ideological and the transactional share the exact same vocabulary, moral claims, and cast of heroes and villains.
Rick is suggesting that rank-and-file conservatives simply have a cast of mind that makes them vulnerable to scary, conspiracy-minded sales pitches, and it doesn't matter much whether the sales pitch is for an investment opportunity to save you from the destruction of the dollar or a political opportunity to save America from the depradations of the UN. And this certainly fits what we know about brain science and ideology: People with a more fearful cast of mind tend to be political conservatives, while people with a more open cast of mind tend to be political liberals.
This explains the fear-based nature of most conservative appeals, but it still doesn't really explain why so many of those appeals are completely batty. Isn't it possible to scare people with (relatively speaking) plausible scenarios? The UN doesn't want to herd us all into cities, but liberals do want to make gasoline more expensive. (It's true! We do!) Likewise, nobody's going to confiscate your guns, but there are plenty of liberals who do want to pass an assault weapons ban.
So why the endlessly apocalyptic tone? Is the real stuff simply not scary enough to be effective? Or have conservatives gotten caught up in an arms race that long ago got out of control? What's the deal here?