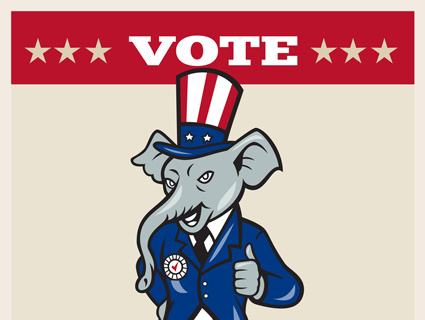 Fight disinformation:
Sign up
for the free
Mother Jones Daily
newsletter and follow the news that matters.
Republicans, apparently convinced that they really are facing demographic doom, have been taking increasingly desperate measures to ensure their continued existence. Does this include an effort to moderate their views in order to win more votes? Don't be silly. Instead, they're trying to game the mechanics of the voting system itself. The last two years, of course, have seen a raft of new voter ID laws designed to reduce participation by groups most likely to vote for Democrats: students, the poor, and minorities. But that's not enough. The Electoral College is looking tougher and tougher for Republicans—especially for hardcore conservative Republicans, who are suffering declining support outside the South—so that's their next target.
The plan is simple: There are half a dozen states that are controlled by Republicans but that often vote for Democratic presidents. Since most states (Nebraska and Maine are the only exceptions) use winner-take-all rules, this means that when Democrats win these states they get 100 percent of their electoral votes. So what would happen if these states instead divvied up their EVs by congressional district? Emory's Alan Abramowitz does the arithmetic:
If the congressional district system had been used in these six states in 2012, instead of Obama winning all of their 106 electoral votes, it appears that Romney would have won 61 electoral votes to only 45 for Obama. As a result, Obama's margin in the national electoral vote would have been reduced from 332-206 to only 271-267.
That certainly makes things closer. A result like that would mean that Republicans were still very much in the ballgame, just a single small state away from victory.
However, Republicans might be outsmarting themselves. If this system of divvying up electoral votes were adopted nationwide, you could make a case for it. But the unfairness of adopting this system only in states that Democrats usually win is palpable. States in the deep South, for example, have no intention of adopting a similar system, and will continue awarding 100 percent of their electoral votes to Republican candidates. Republicans are picking and choosing different systems in different states, with not even a pretense that they're doing it for any reason aside from choosing whichever system benefits Republicans the most in each state. This is so obviously outrageous that it's likely to prompt a backlash.
Democrats don't have the votes to fight back with anything similar, but they do have another weapon in their back pocket: the National Popular Vote interstate compact, an agreement among states to award all their electoral votes to whichever presidential candidate wins the popular vote nationwide. If states with more than half of all electoral votes sign up for this, it goes into effect.
So far, only nine states with a total of 132 electoral votes have signed up. But if Republicans continue their patently shameful effort to game the Electoral College system, it might spur more states to sign up. That's what a sense of outrage can do. Republicans might want to think about that as they move forward. If they keep going, the end result might be a system even less favorable to them than the current Electoral College.