The LA Times reports on the economy today:
Improving economic data is making the prospects more likely that the Federal Reserve will start tapering its massive bond buying next month, a move that suggests the recovery is on solid ground….Economic growth unexpectedly picked up in the second quarter, though it still remained relatively weak. Corporate earnings are largely stronger. Consumer confidence is back to pre-recession levels.
This is all true, and it's all conventional wisdom. But it really shows how low our expectations have gotten. Take a look at the following two charts. The first one, from CBPP, shows that although the headline unemployment rate is down, this is mostly due to large numbers of people dropping out of the workforce and not being counted anymore: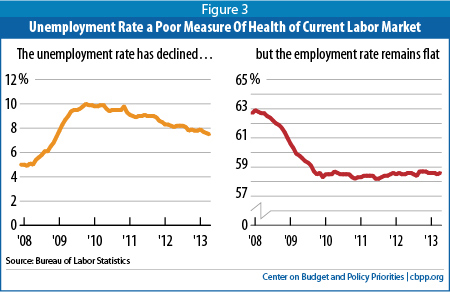 The second one, from Pew, shows the employment rate specifically for workers under 30: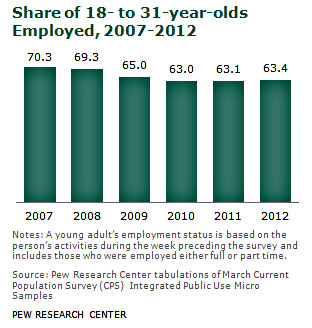 The employment rate of young people cratered between 2007 and 2010, and it hasn't rebounded since. The same report shows that young people are increasingly living at home—hardly a surprise if they can't find a job. And yet, our recovery is supposedly on solid ground. If this isn't the soft bigotry of low expectations, I don't know what is.