This morning I braved the horror show of Steve Benen's newly redesigned site—Obamacare isn't the only IT project with problems!—and came across the right's latest infatuation: Dianne Barrette, a 56-year-old resident of Winter Haven, Fla., "who's made a flurry of television appearances after Blue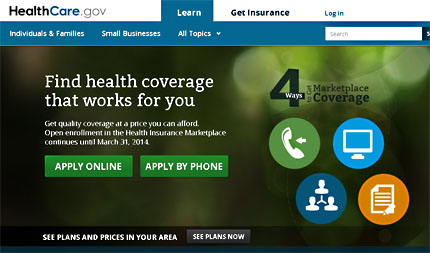 Cross/Blue Shield informed her that her old plan is being replaced with a new one, and her new coverage will be more expensive." Erik Wemple investigated, and discovered that Barrette's old coverage was pretty crappy. Benen summarizes:
If this woman had a serious ailment and was forced to stay in the hospital for a while, her old plan would have likely destroyed her financial life permanently, leaving her bankrupt. Now, thanks to "Obamacare," in the event of a disaster, she'll be protected with coverage her insurer can't take away — with no annual or lifetime caps.

In other words, the new horror story for critics of the health care law features a middle-aged woman trading a bad plan for a good plan, and health care insecurity for health care security.
I think we're going to be seeing a lot of shiny new television stars like Barrette whose stories don't really check out. On the other hand, a couple of regular readers emailed to tell me that the stories aren't all bunk. Here's JG:
I stopped employer-subsidized insurance last year and went with a Blue Cross high-deductible plan for my family of four. $5,000 individual deductible, $10,000 family deductible, and $330/month in premiums….A couple of weeks ago, I got a letter from Blue Cross that my policy was not being offered next year….Similar benefit plan is $750 a month premium with a $12,500 family deductible.
Another wrote that his premium will be increasing from about $600 to $1,300. These are both nontypical cases that represent extremes, and both readers have incomes high enough that they don't qualify for any subsidies. On the other hand, neither is selling some kind of conservative doomsday story. They may eventually discover that things are a little better than they thought once they navigate the exchanges in more detail, but they're facing pretty big increases regardless. As one of them wrote:
I was and am for Obamacare, recognizing that my income allows me to pay more to make sure others have health care. But over 100% increase in monthly premium is kind of shocking. I have no idea if my situation is representative, but if it is, that's going to be the real story going forward. I think people certainly contemplated 20-30% increases in premiums for the same health care plan, but more than 100%?
How many people like this are really out there? We don't know yet. Stay tuned.