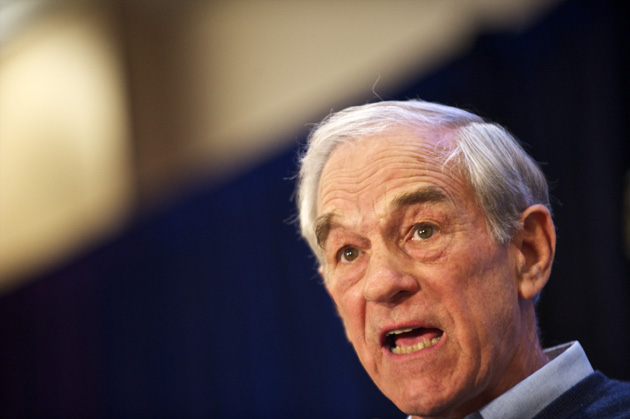 Fight disinformation:
Sign up
for the free
Mother Jones Daily
newsletter and follow the news that matters.
Way back in 2012, when he was running for president, Ron Paul seemed to some people like a breath of fresh air. Sure, maybe he was a bit of a crank, but at least he didn't sanitize his beliefs in order to avoid offending people. He said what he meant, and he meant what he said.
But, um, maybe not. At least, not based on this look into Paul's libertarian id, delivered last night at a campaign rally in Virginia for Ken Cuccinelli:
"Jefferson obviously was a clear leader on the principle of nullification," the former Texas congressman said of the third president. "I've been working on the assumption that nullification is going to come. It's going to be a de facto nullification. It's ugly, but pretty soon things are going to get so bad that we're just going to ignore the feds and live our own lives in our own states."

….He tore into the Constitution's 17th Amendment. Ratified in 1913, it's the one that allows for the direct election of U.S. senators by popular vote. "That undermined the principle importance of the states," said Paul.

He criticized the 16th Amendment, which allowed the federal income tax. After the crowd chanted "End the Fed," Paul decried the printing of more money by the Federal Reserve. "We need someone to stand up to the authoritarians," he said. "They're dictators."

….He stressed that the constitutional "right to keep and bear arms" was not for hunting, but to allow rebellion against tyrannical governments. "The Second Amendment was not there so you could shoot rabbits," he said. "Right now today, we have a great threat to our liberties internally."
Huh. I don't remember him being willing to deliver harangues quite like this during last year's debates. I guess he was holding back after all, just another mealy-mouthed politician unwilling to buck the polls and tell the people the raw truth.
This comes via Ed Kilgore, who asks, "Can you imagine a statewide Democratic candidate anywhere, much less in a 'purple state,' associating himself or herself so conspicuously with such ravings? No, you can't." This is what I was talking about yesterday: liberals don't have the equivalent of a tea party because there just aren't very many liberals who hold views this extreme—and the ones who do are pretty marginalized. In the Republican Party, however, this kind of thing barely even lifts any eyebrows.
And the most remarkable part of all this is that the rest of us—centrists, liberals, non-insane Republicans, the press, etc.—are expected to shrug off this kind of thing as nothing more than a sort of boys-will-be-boys stemwinder, not to be taken seriously. Remarkable indeed.