A few days ago President Obama called rising income inequality "the defining challenge of our time." Over the weekend, Ezra Klein kicked off a blogospheric wonkstorm by arguing that Obama is wrong. "Imagine you were given a choice between reducing income inequality by 50 percent and reducing unemployment by 50 percent," he asked. "Which would you choose?" Klein thinks the answer is obviously unemployment, and the solution to high unemployment is faster economic growth. However, there's very little evidence that high income inequality hurts economic growth, which means that liberals should focus less on inequality and more on things that will help economic growth.
This prompted a variety of responses. Jared Bernstein thinks the whole thing is a false choice, since policies that produce tight labor markets will reduce unemployment and lower inequality. Steve Randy Waldman argues that, in fact, there's plenty of evidence that inequality hinders growth, and we shouldn't let the lack of silver bullet proof make us all wobbly in the knees. Paul Krugman says that regardless of the evidence on growth, high inequality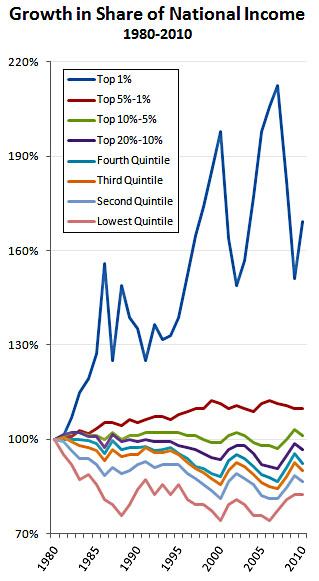 suppresses middle-class wages, produces economic instability, and produces bad political incentives. Kathleen Geier points out that inequality is pernicious in other ways too: it has "the unlovely quality of greatly exacerbating nearly every other social, political, and economic problem that exists."
All good points! But here's what you should really take home from this conversation. For many years, it's been conservative conventional wisdom that inequality is necessary for growth. In fact, the more the better, since the bigger the incentives we offer to successful businesses and entrepreneurs, the more success we'll have.
Today, this argument is all but dead. Think about that. It's remarkable that we're even asking "Does high inequality hurt growth?" Hurt it! This shift in our default assumption represents huge progress. After all, if the answer is yes, it's one more reason to favor policies that reduce inequality. But even if the answer is no, all it means is that growth is independent of inequality. There are really no arguments left that are actively on the side of high inequality aside from simpleminded libertarian fantasies that economic capitalism is neutral by definition, and therefore everyone automatically gets what they deserve.
There are lots and lots of reasons to oppose high and rising income inequality. Maybe its effect on economic growth is one of them. Maybe not. Either way, aside from the simple self-interest of the rich, there are no longer any real arguments for favoring, or even ignoring, rising income inequality. The fact that this is now so widely accepted as to be barely worthy of notice—well, that's kind of amazing, isn't it?