A couple of weeks ago, a team of researchers asked Americans to locate Ukraine on a map. You'll be unsurprised to learn that most of them couldn't. But check this out:
Accuracy varies across demographic groups. In general, younger Americans tended to provide more accurate responses than their older counterparts: 27 percent of 18-24 year olds correctly identified Ukraine, compared with 14 percent of 65+ year-olds.
Say what? The idiot youngsters, the ones who are forever being mocked for not being able to locate France on a map, did better than their older, obviously better educated peers? How about that. Keep this in mind the next time you see one of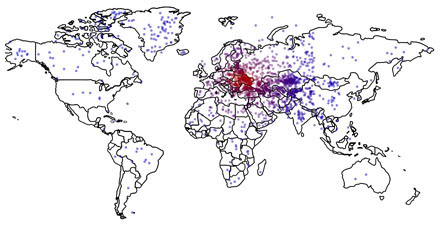 those endless surveys bemoaning what geographic numbskulls the kids today are.
But that wasn't really the point of the survey. This was:
The further our respondents thought that Ukraine was from its actual location, the more they wanted the U.S. to intervene militarily. Even controlling for a series of demographic characteristics and participants' general foreign policy attitudes, we found that the less accurate our participants were, the more they wanted the U.S. to use force, the greater the threat they saw Russia as posing to U.S. interests, and the more they thought that using force would advance U.S. national security interests; all of these effects are statistically significant at a 95 percent confidence level. Our results are clear, but also somewhat disconcerting: The less people know about where Ukraine is located on a map, the more they want the U.S. to intervene militarily.
Yep: folks who thought Ukraine was somewhere near Chad were more convinced that Russia's actions posed a threat to US interests. Chew on that for a while. Let's toss out some possible reasons for this:
Ignorant folks are more likely to be jingoistic supporters of military action.
If you think Ukraine is farther away from Russia than it is, it makes sense to assume that Russia is trying to project military power over a great distance and therefore poses a greater threat than a mere border incursion would.
Low-information respondents are more easily manipulated by rabble-rousers.
Ignorance of geography is a proxy for ignorance of both the capabilities of the US military and the costs and likely success of intervention.
This is just some weird statistical artifact and means nothing.
Or maybe there's something I haven't thought of.