Gallup's latest poll number for the uninsured is out, and it's stabilized now that the open enrollment period for Obamacare has ended. It was 13.4 percent in April and it's 13.4 percent in May: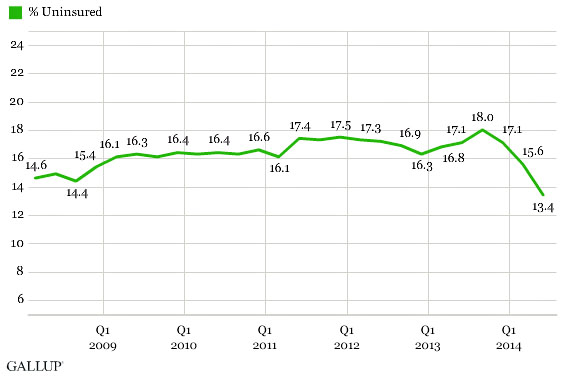 The fact that the rate stabilized provides some confidence in Gallup's polling, since that's what should have happened once open enrollment ended. This is a drop of about 4 percentage points from the 2011-12 baseline, and represents about 10 million newly insured—a figure that's been confirmed elsewhere and now seems like a pretty good estimate. Add to this the number of children and sub-26ers who are newly insured, and you're probably up to 12-13 million who are newly insured under Obamacare. Some of this comes from people buying insurance through the exchanges; some comes from Medicaid signups; and some comes from people signing up for insurance at work thanks to the individual mandate.
It's possible that other estimates will upend this number over the next few months, but I doubt it. This is probably about what we got from Obamacare. It's up to you to decide if you think it's worth the price.