Fight disinformation:
Sign up
for the free
Mother Jones Daily
newsletter and follow the news that matters.
Back when he was a reckless and irresponsible youngster, Rand Paul suggested cutting off all foreign aid, specifically including aid to Israel. "I want to be known as a friend of Israel," he said, "but not with money you don't have."
Oh wait. That was actually 2011. Not so long ago after all. It's certainly well after the internet was invented and politicians' past statements became impossible to hide or fudge. Nevertheless, Paul is now running for president, so he needs to revise his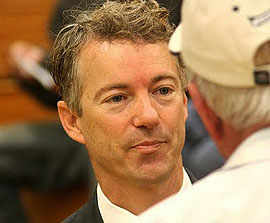 position. That shouldn't be too hard, really, but as usual, he's making it hard:
Kentucky Sen. Rand Paul on Monday denied that he once supported ending federal aid to Israel — an idea he proposed as recently as 2011.

"I haven't really proposed that in the past," Paul told Yahoo News when asked if he still thought the U.S. should phase out aid to Israel, which has been battling Hamas in Gaza for weeks. "We've never had a legislative proposal to do that. You can mistake my position, but then I'll answer the question. That has not been a position — a legislative position — we have introduced to phase out or get rid of Israel's aid. That's the answer to that question. Israel has always been a strong ally of ours and I appreciate that. I voted just this week to give money — more money — to the Iron Dome, so don't mischaracterize my position on Israel."
This is starting to become one of Paul's distinguishing features. He's also done the same thing regarding the Civil Rights Act. Instead of simply saying that his thinking has evolved in some way or another, he aggressively denies he ever held his previous position and then pretends to be outraged that some liberal shill of a reporter is deliberately misrepresenting his position. How dare he?!? So far the mainstream press isn't really giving him much grief over this, but that could change if he mounts a serious presidential run.
Poor Rand Paul. He's discovering that the actual existing Republican Party isn't really all that libertarian after all. If he wants to be president, he's going to have to jettison a whole bunch of fervently held positions, and he's obviously not very happy about that. I wonder how many times he's going to pull a performance like this? If he perfects it, maybe he deserves a Tony.