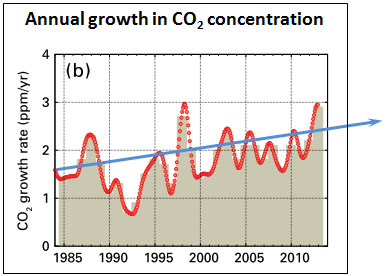 The World Meteorological Organization announced today that global levels of carbon dioxide reached their highest point ever in 2013. No surprise there. They also announced that the growth rate of CO2 reached its highest point ever. Brad Plumer provides the details:
There are two possible reasons why the amount of carbon-dioxide in the atmosphere is growing so rapidly. One is obvious: Humans continue to emit more and more carbon-dioxide from power plants, cars, and factories each year.

But the other reason is a bit more surprising: According to the WMO, early data suggests that the world's oceans and forests are now absorbing less of our extra carbon-dioxide than they used to — which means that more of it ends up in the atmosphere, where it traps heat and warms up the planet.
The amount of CO2 absorbed by the oceans is cyclical in the medium term, which probably helps explain why global temperatures periodically stabilize for a decade or so before resuming their usual upward march. But there's also a long-term trend. Oceans can't absorb CO2 indefinitely, and eventually they'll reach their limit. As that happens, more and more CO2 will be trapped in the atmosphere, where it contributes to global warming. And unless we do something to rein in CO2 emissions, this will happen at the same time that humans are pumping ever more CO2 into the sky. More here.