Fight disinformation:
Sign up
for the free
Mother Jones Daily
newsletter and follow the news that matters.
A couple of days ago I wrote a post suggesting that there might not really be much we can do to retaliate against North Korea, who the FBI blames for the Sony hack. So I was curious to read "A Reply to Kim's Cyberterrorism," a Wall Street Journal editorial telling us what options we had. I figured that if anyone could make the best case for action, it was the Journal.
Unfortunately, they mostly just persuaded me that there really is very little we can do. After clearing their throats with a couple of suggestions that even they admit are mostly just symbolic, they get to the meat of things:
Earlier this year [Rep. Ed Royce] introduced the North Korea Sanctions Enforcement Act, which gives Treasury the power it needs to sanction banks facilitating North Korea's finances. It passed the House easily in July but has since been locked up in Harry Reid's Senate at the behest of the Obama Administration. Mr. Royce tells us he plans to reintroduce the bill as a first order of business in the new Congress. New Jersey Democrat Robert Menendez has introduced similar legislation in the Senate; a bill could be on Mr. Obama's desk by the second week in January.
So….that's it. And even this is weaker tea than the Journal suggests. For starters, the bill has a serious structural problem because it puts severe limits on the president's power, which is why Obama hasn't supported it in the past. It's a bad idea in foreign relations for Congress to mandate sanctions that can then be lifted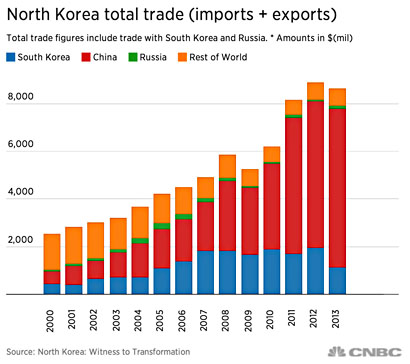 only by Congress. This makes it almost impossible for presidents to negotiate future agreements because they have no carrots to offer in return for good behavior.
But that could be fixed. What can't be fixed is the fact that North Korea learned a lesson from our previous attempt at tightening economic sanctions in 2007, when we cut off the US links of Banco Delta Asia, a Macau-based bank suspected of doing business with North Korea. This in turn panicked other Macau banks into cutting off their relationships with North Korea, which severely restricted the regime's access to dollars. As the Journal notes, this genuinely hurt North Korea, and the Bush administration agreed to resolve the BDA issue during the Six-Party nuclear talks later that year.
Unfortunately for us, sanctions like this would hurt North Korea a lot less now than they did back in 2007. Stephan Haggard explains:
Post-BDA, and since the ascent of Kim Jong-un in particular, North Korea has also sought to diversify its trade, investment and financial links. The KPA and its associates have developed relationships with financial entities that are not concerned with access to the U.S. market, both in China and outside it; Russia will be particularly interesting to watch in this regard but there is also the open field of the Middle East….While this legislation might raise the costs of proliferation activities if implemented, it is unlikely to staunch them completely and could simply forge new networks beyond the law's reach.

Another question is whether the sanctions will have the broader strategic effect of moving the North Koreans toward serious negotiation of its nuclear program….The paradoxical feature of sanctions is that they rarely have the direct effect of forcing the target country to capitulate. The HR 1771 sanctions will have effect only when coupled with strong statements of a willingness to engage if North Korea showed signs of interest in doing so. The legislation provides plenty of sticks; the administration will have to continue to articulate the prospective carrots in a way that is credible. Strong sanctions legislation makes that difficult to do if the legislation places a series of binding constraints on the president's discretion. Why negotiate with the U.S. if there is no return from doing so?
With changes, Royce's sanctions bill might be an appropriate response to the Sony hack. However, it's unlikely to have a severe effect on North Korea. Even worse, past history shows that a single-minded "get tough" attitude toward the DPRK can backfire badly, as it did on George Bush when his refusal to negotiate with Pyongyang in 2002 led in short order to the ejection of UN inspectors and the construction of plutonium bombs from a stockpile that had previously been kept under lock and key.
As the cliche goes, there are no good options here, just bad and less bad. I wouldn't necessarily oppose a modified version of the sanctions bill, but it's unlikely to have a major impact. It might even make things worse. If this is the best we can do, it's pretty much an admission that there's not really much we can do.